The Road to Discovery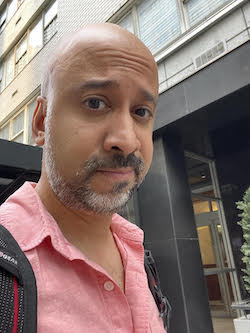 Newsletter Thursday September 16, 2021, 1:40am - by seantaylor
---
Ask an Improviser
"What is the most important improv lesson you ever learned?"
Performer Matthew Shafeek
"My earliest days of performing were filled with sacrilegious attempts to script as many details as possible in my head before stepping out into a scene. I didn't believe I could be clever enough in the moment, so I tried to pocket as many hilarious premises, characters, and cereal mascots as possible in advance. This was a disastrous approach. Once I failed enough at this, and finally forced myself to be present, and to really listen and react in scenes, I slowly learned that individual cleverness is always trumped by the spontaneous discovery and commitment of the group mind. And the more you're working to be "clever," the less present you are to what's happening in front of you, to be a part of that group mind. "
Check out Matthew in The Armando Diaz Experience and Metal Boy
Jacob Horn & Frank Spitznagel

Saturday (9/25) @12pm

Adam Wade

Saturday (10/23) @12pm