Meet the Magnet Touring Company
---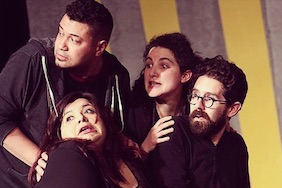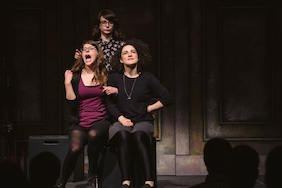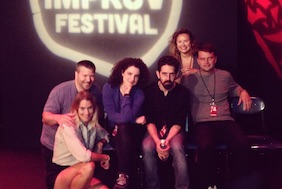 The Magnet Theater is New York City's home to some of the best improvisational comedy in the country. For over a decade, Magnet has quietly amassed a loyal fan base to its storefront theater just South of Madison Square Garden. It's packed nearly every night with an audience eager to see shows consistently recommended as top picks by Time Out New York, The Onion, and other critics that matter.
Magnet is also a highly respected comedy training center under the direction of the legendary Armando Diaz. Magnet's improv system is strategically designed to turn normal human beings into exceptionally funny long-form improvisers, and its success is evident every night on the Magnet stage where students and graduates pull off incredible feats of unscripted theater.
The Magnet Theater Touring Company brings the very best up-and-coming comedic talent to you; to your school, your theater, your organization. The Magnet Touring Cast consists of some faces you may recognize, and others about whom you'll certainly be able to say, "I saw them when."
What Will I Get?
You'll get full sets of incredible, mind-blowing long-form improvisation combined with the best teachers of the art of improvisation around–how could you go wrong? You can't. That's how.
You'll get it all at a price that make your budget committee happy, and your bookkeeper suspicious.
The Magnet Touring Company delivers big laughs and quality classes at an affordable price.
Packages
Check out some of our standard packages:
Rock Solid Magnet TourCo Package
Two full 40min sets of improv performed by New York's top improvisational talent, courtesy of the Magnet Theater.
Rock Solid Plus
Perfect for college improv groups or theaters/festivals, the Rock Solid Show Plus comes with two full 40min sets of improv, plus one private workshop with your improv group, organization, or team.
Educational Package
You get one show from the TourCo, plus 3-4 workshops from Magnet Full-Time Faculty Instructors, beginner to advanced, focusing on the needs of your particular team/theater. Perfect for multi-group theaters or success-minded improv teams.
Musical Package
You get a 45-50 minute improvised musical. Yes, a musical! Magnet's top performers take your suggestion and turn it into a full-fledged Broadway-style musical. Every note played, every word sung, every dance move danced is made up right on the spot. Intro to Musical Improv workshops also available.
The Armando Diaz Experience
You get one full 40-50min improv set from the Magnet Touring Company, plus one workshop on "The Armando" longform, AND one set where players from your school/organization perform an "Armando" with the Touring Company, featuring a guest monologist from your own school/organization!
The Armando Diaz Experience All Star Extravaganza featuring Armando Diaz!
You get one full 40-50 min set from Magnet All Star performers, a workshop from Armando Diaz himself on "The Armando", and one set where experienced players from your school/theater/organization perform an "Armando" with the Magnet Touring Company—with Armando as monologist!
Pimp My Package (Customized)
Want two workshops and two shows? Want one show with seven workshops? Want half a show and ⅜ of a workshop? That's weird. But we're flexible. Email us what you're thinking, and we'll give you a proposal.
sean@Magnettheater.com. Drop us a line, and let's do a show.