Queue the Music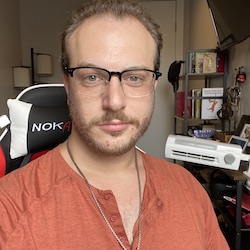 Newsletter Friday July 9, 2021, 1:15pm - by seantaylor
---
Showtime!

Tonight (Friday, July 9th) Musical Improv returns to the Magnet Main Stage beginning with Musical Megawatt teams Nightshade and Wonderland at 7pm followed by Premiere at 9pm kickstarting a month full of musical acts!
Check out the July calendar to get your tickets
Funnyball

RSVP for Free softball in Central Park

Saturday (7/10) @2-4pm
Remember Me?
Magnet visits with people we haven't seen in awhile.
Performer Aaron Gold
1. Where are you sheltering?
In my new Brooklyn apartment with Magnet's own Nicholas Nieves! Both of us were in not great living situations for most of the pandemic, so rooming with another improv person has been a breath of fresh air
2. How are you staying sane?
I've been playing a lot of DnD and video games. Plus watching AEW helps. Everything's a little better when you get to see a plucky cult cheer on a handsome wrestling cowboy
3. What do you miss most?
After show hangouts. That feeling of "ehhh I should go home, but what the hell, 15 more minutes." That in person camaraderie combined with post-show buzz that just has everyone excited and happy to be there with one another.
4. What don't you miss?
Figuring out how I'll cram ten minutes worth of lunch into my schedule amidst the 15 things I have to do running around the city all day.
5. What do you want to say to the other members of the Magnet community?
We're almost out of this horrible fog. And while things may not (hopefully) be as busy as they were soon, our theater is back open, our social spaces are back open, and we can all enjoy each other again very very soon.
Also You Are Not Alone returns to the live theater live and in person LIVE on Saturday July 31 at 6pm so deffo come see that okay I love you bye