Virtually Open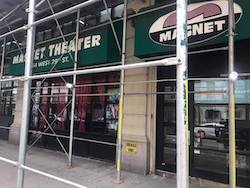 Newsletter Thursday June 17, 2021, 2:52am - by seantaylor
---
Remember Me?
Magnet visits with people we haven't seen in awhile.
The Magnet Theater
1. Where are you sheltering?
259 W. 29th Street behind a lot of scaffolding.
2. How are you staying sane?
Haymakers! They set up sidewalk service. Woo hoo!
3. What do you miss most?
Having so many funny people on my stage.
4. What don't you miss?
Water flooding from the 2nd floor. Messy Food Sketches!
5. What do you want to say to the other members of the Magnet community?
We will get through this one day at a time.
FRIDAY (6/18)

8:30pm The Friday Night Sh*w

SATURDAY (6/19)

6pm The Say it LOUD

SUNDAY (6/20)

7:30pm Kornfeld & Andrews
FRIDAY (6/25)

7pm The Cast
8:30pm Good&Evil & Metal Boy

SATURDAY (6/26)
6pm The Little Big Show
7:30pm ADX

SUNDAY (6/27)

6pm Thank You For Coming Out
Dennis Pacheco & Armando Diaz

Sundays (7/25) @12:00pm