Hamilton!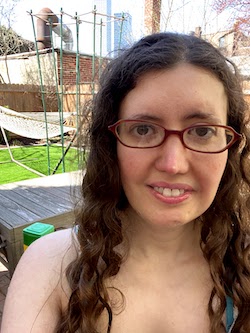 Newsletter Tuesday April 6, 2021, 2:16am - by seantaylor
---
| | |
| --- | --- |
| | Get your improv reps in at the free Magnet Mixer this Saturday (4/10) at 6pm. Around 5:30pm we will share the sign up sheet and the Zoom link to this community page |
No experience? No problem.

Monday (4/19) @6:30pm

Rachel Hamilton

Mondays (4/19) @7pm

Armando Diaz

Mondays (4/19) @7:00pm
Nick Kanellis

Saturdays (4/24) @1pm

Dahlia Ramsay

Tues (4/27)-Thurs (4/29) @7:30pm
Michael Lutton

Mondays (5/3) @6:30pm

Rachael Mason

Thursdays (5/6) @7pm
Remember Me?
Magnet visits with people we haven't seen in awhile.
Performer Julia Meinwald
1. Where are you sheltering?
In Jersey City - same place I lived pre-Pandemic. In a nesting panic about three weeks into "sheltering" I bought three lamps and two ottomans, and with these completely necessary purchases have achieved optimal coziness.
2. How are you staying sane?
Playing an unprecedented amount of games. I've grown familiar with the seven JackBox releases, host regular game happy hours via Zoom, play Wingspan, Patchwork, or Race for the Galaxy tabletop whenever I can cajole my husband into playing with me, and have resorted to playing online with strangers when my insatiable need to reach ten victory points outpaces the patience of those in my life. At my most quarantine productive, I made a music video about isolation and connection. I'm also seriously considering planting some windowsill herbs.
3. What do you miss most?
I'm as proud of my newfound culinary skills as the next pandemic home-chef, but the one thing I have been utterly unable to reproduce, myself or via delivery, is a good Korean soup. As soon as I'm vaccinated and indoor dining is deemed safe, I'm bee-lining for 32nd street to gorge myself on kimchi stew and soon dobu chigae.
4. What don't you miss?
Once, late at night on the subway, a stranger said to me, "Don't look scared. When you look afraid it makes people not like you." Generally speaking, I'm a proponent of public transit as a microcosm for the city, and one that usually shows me its friendly face, but I'm happy that this particular subway dude has not once materialized at my house.
5. What do you want to say to the other members of the Magnet community?
In March of last year, when things felt especially new and scary, The Magnet was one of the earliest beacons of normalcy. I remember tuning in desperately to those first Twitch broadcasts, thinking that if improv was still going strong, all could not be lost. I've watched so many shows since then, and taken so many classes, and truly, of all the faces in little boxes, yours are among my very favorites; I'm more grateful than ever for this community.