Save the Date!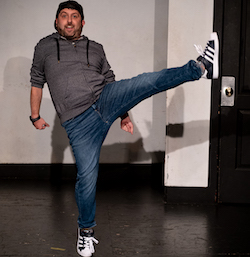 Newsletter Tuesday March 30, 2021, 2:23am - by seantaylor
---
Megan Gray

Wednesdays (4/21) @8pm

Nick Kanellis

Saturdays (4/24) @1pm

Armando Diaz

Mondays (4/19) @7:00pm

Dynamic Duos

Tuesdays (4/20) @7:00pm
Robert Weinstein

Mondays (4/26) @7:00pm

Adam Wade

Sunday (4/11) @6:30pm
Remember Me?
Magnet visits with people we haven't seen in awhile.
Performer Michael Serpe
1. Where are you sheltering?
In scenic Rockland County, New York. About an hour's drive from Camp Magnet!
2. How are you staying sane?
Doing Improv on Twitch, reading plays on Zoom, writing an EP, reading comics, face-timing with my nieces, playing video games, and watching travel vlogs on YouTube (if someone's documented an Amtrak ride across America, there's a good chance I've seen it.) Also taking this time to work on myself and make sure I'm doing what I can to leave the world, or even someone's day better than I found it.
3. What do you miss most?
Singing harmony, either on stage or at karaoke backing someone up. Singing in groups is the only time where I feel like I'm part of something bigger than myself. To support someone's sound and complete a chord is when I'm at my happiest.
4. What don't you miss?
The Metro North after a New York Rangers game. Those fans are a rowdy bunch. "Let's go Rangers" and all that, but COME ON it's called The Quiet Car for a reason!
5. What do you want to say to the other members of the Magnet community?
This time in isolation may have left you alone for longer than you're used to, and in that silence, especially with so much turmoil in the news, self-destructive thoughts can creep in. But always remember that there are so many people who want nothing but the best for you. Even if you don't think you deserve it. But you DO deserve it, you really do. You are loved, you are enough, and you are never alone. Oh and drink some water!