Election Electives and Catch up with Gregory Cornejo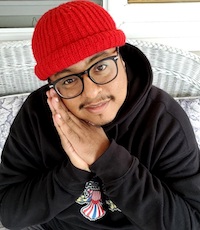 Classes, Electives, Newsletter Wednesday October 28, 2020, 2:27pm - by seantaylor
---
Remember Me?
Magnet visits with people we haven't seen in awhile.
Writer/Performer performer Gregory Cornejo
1. Where are you sheltering?
In my new home in Newark, New Jersey. Luckily my wife and I were able to buy a house in January and not go through this tough time in our old small apartment with the four of us and Shuga the Shih Tzu. Newark is a beautiful city that's great for artists and easy to get to NYC.
2. How are you staying sane?
Season 9 of Seinfeld "Serenity now!". Really though, my family is the main reason I'm sane. My wife and children have been great. We've really gotten closer as a family during this time. We've been playing basketball and I have fearfully been jumping on our trampoline. There has been some danger on the death trap called trampoline but mostly fun. Although, assembling all of those things almost made me not sane. Once the Allen wrench injuries heal I'm sure I'll laugh long and hard about it, someday. I've also been working out a little, very little, almost not at all. Luckily, we live next to a large park so we enjoy walks there too.
3. What do you miss most?
Walking around New York and enjoying the architecture. The hustle and bustle really gave me life. Now that I work from home, I don't get any of that. I especially miss performing and being around other funny people. Creating with a group, bouncing ideas off of each other at least once a week really kept my comedy on point.
4. What don't you miss?
To be honest, there's nothing I don't miss. How I yearn to be in an A.C.-less train car with a fragrance I can only call eau de public toilette. Seriously, the only thing I don't miss is Haymaker's expensive drinks and 2nd floor elevator traffic.
5. What do you want to say to the other members of the Magnet community?
Keep on creating, reach out to your friends, love those who love you. Don't forget to love yourself first. Oh and vote.