x
Take a Class!
All Virtual Offerings
Improv Classes
Electives
Improv Conservatory
Musical Improv
Writing / Sketch
Storytelling
All (Improv, Sketch, Electives)
Application Classes
Festival Applications
Browse Classes
(Tap Here)

Experiments in Long Form PWYC (4 sessions) with Elana Fishbein
Class Description
---
In this advanced improv class, improvisers will explore different approaches to virtual longform. With warm-ups, scene work exercises, and long form experiments optimizing elements of Zoom, we'll find new ways to collaborate as a team. While we may be in far flung locations, we can still draw inspiration from many sources, use physicality and stage picture to discover dynamic characters and relationships, use creative transitions to move from scene to scene, and find ways to connect with our scene partners to make something great!
Participants must be highly proficient with Zoom, specifically: muting/unmuting, turning video on and off, pinning video, accessing video settings to hide non-video participants, using camera covers, etc. Instructor will be happy to assist, but learning these skills is key! Folks are encouraged to join with a laptop, PC, or large tablet in order to see the entire class in gallery view. Devices should be hands free and in a fixed spot for improvising, so performers can move around!
Prerequisite: Level 3, Equivalent or Instructor Approval
Max: 12 Students
---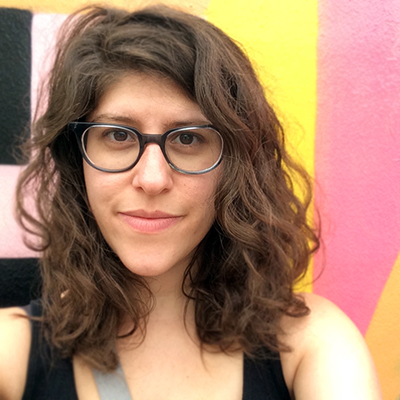 Elana Fishbein is an improv instructor, consultant, and performer based in New York City. She has designed curriculum and facilitated improv workshops for corporations, non-profits, and educational institutions all over the United States and beyond. Elana's targeted, experiential sessions have helped thousands of students expand their ability to communicate, collaborate, empathize, and lead through radical respect and elevation each other's ideas.
Elana is a teacher at the Magnet Theater in New York City. She can be seen performing with the Armando Diaz Experience, Magnet Theater TourCo, and her solo improv show, Pepita (Best of the Fest, San Diego Improv Festival). She has been featured at the Boston, Charleston, Chicago, Eau Claire, Edmonton, Omaha, Philadelphia, and Women in Comedy Festivals, among others. Her two-woman play, Sisters Three, was a New York Times Critics' Pick.
Elana has written and performed for The Truth Podcast (Radiotopia), Story Pirates Podcast (Gimlet), and appeared on BBC America's Almost Royal, as well as in the original musical comedies Girl Camp and Nightfall on Miranga Island. She is a member of Story Pirates, a non-profit arts-in-education organization that takes stories written by kids and adapts them into hilarious sketches and songs. She is the co-creator of two professional development workshop series for teachers: "Beyond Winging It: Improv in the Classroom" and "Play." Elana is featured in the documentary short, LMAO, about the therapeutic potential of laughter and comedy.
Elana holds an M.A. in Educational Theater from NYU and B.A. in Drama from Vassar College. Her favorite succulent is jade.
Check out her website: www.elanafishbein.com
Full Session Schedule
---
Session Schedule*
Nov 8, 2020, 5:00pm - 7:00pm
at Zoom (Instructor will send info)
(cyberspace)
Nov 15, 2020, 5:00pm - 7:00pm
at Zoom (Instructor will send info)
(cyberspace)
Nov 22, 2020, 5:00pm - 7:00pm
at Zoom (Instructor will send info)
(cyberspace)
Nov 29, 2020, 5:00pm - 7:00pm
at Zoom (Instructor will send info)
(cyberspace)
Show Schedule*
This class does not include a performance.