Maximize Content…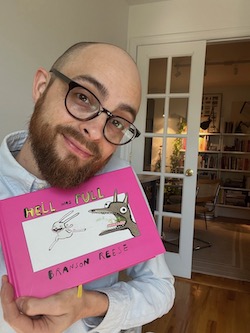 Newsletter Monday March 14, 2022, 2:36am - by seantaylor
---
Featured *In-Person* Classes
Armando Diaz & Charlie Nicholson

Improv Level 1 (in-person)

Sundays (4/3) @6pm

Armando Diaz & Billy Soco

Improv Level 2 (in-person)

Sundays (4/3) @4pm
Featured *Online* Offerings
Ask an Improviser
"What is the most important improv lesson you ever learned?"
Performer Evan Forde Barden
"The best lesson I ever learned in improv was to "just have dinner." I had a bad habit during rehearsal scenes of checking in with my coach to see if they liked what I was doing. It would drive them nuts! My attention was not on the scene, but the response I was getting for my performance. Repeatedly, my coach made me do scenes where the setting was a dinner date and I was told to just have dinner the way a real human would: focus on your date, enjoy your food, share pieces of yourself, etc. Find the funny on stage, not in the audience."
Check out Evan Forde Barden in Bodywork as part of Megawatt or in The Friday Night Sh*w