Party. Presents TV Kids Place!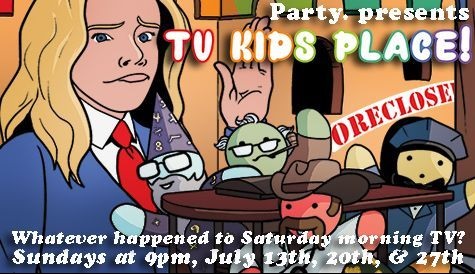 About the Show
Of tne of the last remaining Saturday morning children's television shows, the long-running TV Kids Place!, is finally cancelled. And there's only one thing host Pippi Pederson-Morales, Max the Mathemagician, Dr. Cowboy, Cloggo the Janitor, Willy McNilly and the rest of the TV Kids Place! gang can do to stop it--put on the greatest show of their lives. Can Pippi and the gang save Saturday morning kids TV? Come to a live taping at the TV Kids Place! Studios and see for yourself!
Directed by Alessandro King
Party. recently returned from a successful set at Montreal Sketchfest 2014. Individually, the cast has appeared on Comedy Central, Investigation Discovery, Off-Off Broadway, and has performed at theaters throughout the East Coast.
"A talented troupe with a big cast, New York City's Party. regaled the crowd with some fantastic character work and hilarious violence."
-Montreal's Bloody Underrated


Magnet Theater
254 West 29th St.
New York
NY
10001