Hot Improv Summer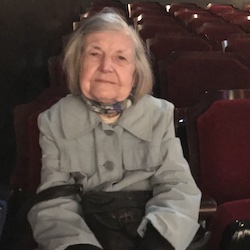 Newsletter Wednesday June 30, 2021, 9:37am - by seantaylor
---
Michael Lutton

Wednesdays (8/4) @3:30pm
Remember Me?
Magnet visits with people we haven't seen in awhile.
Performer Maryann
1. Where are you sheltering?
My home in Chelsea (25th & 9th). I've been here since the 60's.
2. How are you staying sane?
I watch TV. I love "the Trekkies" (Star Trek).
3. What do you miss most?
I could look at the TV but I missed the Magnet mixers. I cried a lot. It gives me inspiration to make people laugh every Wednesday and every two weeks, I'd go the Musical Mixer too.
4. What don't you miss?
There is a lot to miss - No airplanes in the sky, no travelling but I was able to see my friend get naturalized as a US citizen.
5. What do you want to say to the other members of the Magnet community?
We gotta hang in there. Keep fighting. Things will get better.