10 – 9 – 8 …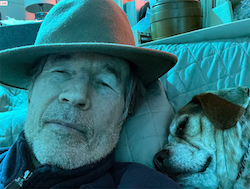 Newsletter Tuesday April 13, 2021, 8:26am - by seantaylor
---
GUEST INSTRUCTORS...

Rachel Hamilton (Second City - Chicago & LA)

Mondays (4/19) @7pm

Rachael Mason (Second City, iO, Annoyance - Chicago)

Thursdays (5/6) @7pm
Armando Diaz

Mondays (4/19) @7:00pm

Nick Kanellis

Saturdays (4/24) @1pm

Ross Taylor

Thursdays (5/13) @7:00pm

Saturdays (5/1) @4:00pm
Michael Lutton

Mondays (5/3) @6:30pm

Dahlia Ramsay

Sundays (5/11) @11am
Remember Me?
Magnet visits with people we haven't seen in awhile.
Performer Bill Buttrick
1. Where are you sheltering?
Well so I live in Connecticut, the Nutmeg State. Its nice here. Everyone has money jutting out of their pockets and folks on the street are ever exchanging delightful pouches filled with cash and nutmegs.
2. How are you staying sane?
I'm reading a lot of Shakespeare, though I have no idea what any of it means. I'm also learning to speak French, by way of watching Call My Agent, sans subtitles. To be true, my routine is a mishmash of TikTok and the Dark Web, coupled with some roughshod taxidermy.
" Nature teaches beasts to know their friends"(WS)
3. What do you miss most?
I miss my dog Lilly (pictured - the one with no hat), a chow hound with a heart of gold and a gut of steel. Regrettably Lilly has aged out dans la moche department and thus awaits le blade du taxidermiste…There, I said it!
"…a tail told by an idiot, full of hound and furry, signifying nothing" (BS)
4. What don't you miss?
I do not miss rubbing elbows with workaday riff-raff and pretending to enjoy their company. Lá, je l'ait dit!
" What hempen home-spuns have we swaggering here…" (WS)
5. What do you want to say to the other members of the Magnet community?
Your amour pour moi so clear to see
Alas mon chers tis not to be…
Je m'en vais mes avec un petit disclaimer
" I do desire we may be better strangers…" (WS)
Mon Dieu! ( Lilly is fine and I miss you all )