Funny Voices and Feelings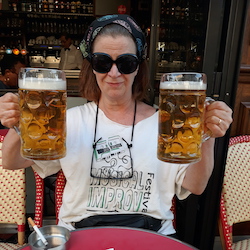 Newsletter Tuesday March 9, 2021, 2:43am - by seantaylor
---
| | |
| --- | --- |
| Thank you to Fred Chong Rutherford for offering his workshop, "Funny Voices and Feelings" a sold out four week, two hour workshop exclusively available to applicants of the Magnet Diversity Scholarship! | Get your improv reps in at the free Magnet Mixer this Saturday (3/13) at 6pm. Around 5:30pm we will share the sign up sheet and the Zoom link to this community page |
No experience? No problem.

Thursday (3/25) @6:30pm

Armando Diaz

(4 spots left)

Thursdays (3/11) @7:00pm

Michael Lutton

Thursdays (4/8) @6:30pm

Saturdays (3/27) @3pm
Megan Gray

Wednesdays (4/21) @8pm

Adam Wade

Mondays (3/15) @7pm

Wednesdays (3/31) @7pm
Remember Me?
Magnet visits with people we haven't seen in awhile.
Performer Michele Foor
1. Where are you sheltering?
In the UWS of NYC. Small one bedroom (SMALL) that I've shared with Frank Spitznagel for almost 30 years. Two people, one large dog and two cats. Full house.
2. How are you staying sane?
Who says I am?! Surprisingly our lives are even more filled with musical improv than before, and for that I am grateful! Tech issues aside, it's what keeps us moving forward.
3. What do you miss most?
Live performing of course! My Tuesday nights at the Magnet for Musical Megawatt (and Mixer). Sitting in my front row seat near Frank, laughing way too loud with Russ while holding my 2-4-$5 PBR's in my hands. Pam's dog pictures.
I also miss thinking that more human beings are basically good, but that's for another day!
4. What don't you miss?
Crowded subways. Work. Setting my alarm.
5. What do you want to say to the other members of the Magnet community?
Got your backs and see you soon.