Q&A: "The Griot Show" with Alexis Lambright
Interviews Tuesday August 15, 2017, 1:40pm - by admin
---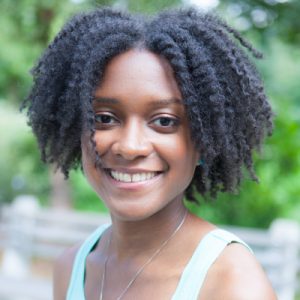 Alexis Lambright is a writer, storyteller, and cast member of Magnet ensembles The Wrath and The Cast. Alexis also hosts The Griot Show, in which she brings together a range of black performers and storytellers together around a specific theme! In anticipation of this Friday's edition of The Griot Show, we spoke with Alexis about storytelling, "edutaining," and pooped pants.
What makes a compelling story?
For me, the thing that makes a story compelling are the details. This is in no way profound, but I'm drawn to stories with a lot of details. Someone could be telling me about the time they pooped their pants in public, and I wanna know which city they were in, the surroundings, the time of day, the temperature, what they wore, what they ate earlier that day, and of course why they pooped their pants in the first place. All of those details allow me to see it happening (that's not to say that I am obsessed with envisioning someone pooping their pants, I was just using that as an example). Anyway, I've heard some very detailed stories that made me feel like I was actually there.
How does your background as an improviser inform your style as a storyteller?
I think my improv background has allowed me to be able to recall stories pretty quickly. I've done shows were I had to come up with a story from an audience suggestion, which means going through my mental Rolodex of related stories. In the case of The Griot Show, I might have a story prepared, but maybe something from one of the performer's stories sparks an idea that leads to a better story!
Your show features a variety of performers from different experiences and performance styles. Aside from improvisers and comedians, what other people have performed at the Griot Show?
Over the past three years, while I started out trying to keep the format to a traditional storytelling show, I've found that the show is really great when the performers tell a story through other mediums. I've had a video artist on who showed a piece that he directed, in which Harriet Tubman and other slaves were doing interpretive dance to Britney Spears' "I'm A Slave 4 U". There have been poets who have shared stories through their work, a few performers have incorporated music into their pieces, and I've even projected illustrations from a book I wrote at the tender age of six about slavery. Yes, 6 year-old me wrote a book about slavery. One of my absolute favorite guests on the show was Mr. Dabney Montgomery, who served the U.S. Army Air Corps as one of the Tuskegee Airmen. When I tell you it was an honor, privilege, and just an absolute DREAM COME TRUE having him bless my little ol' show, I am dead serious! He was phenomenal!
What inspired you to produce this show?
I was approached by Beth Newell (former Magnet Sketch Program head) about creating a show that would bring some diversity to the Magnet stage. I brainstormed some ideas and finally decided on a storytelling show for Black History Month. The first two times went so well, that people came up to me and said "have you ever thought about having the show more than just once a year?" The next show was on Juneteenth for its historical significance to African Americans, and eventually I did the show every other month. I'd like to make it a monthly show, but I need help either producing or hosting it.
You've been hosting the Griot Show for a while now. How has the show changed over time since you first started hosting it?
As I mentioned before, it's been a little over three years since the show debuted. In the beginning, it didn't have a specific theme- I just wanted to get more black people performing at the Magnet. Now, I will try to come up with a theme for the show, like "Juneteenth Edition", "Pride Month+Loving Day Edition", etc. Also, because I love it when a show is "edutaining" (educational and entertaining), I try to do black history or theme-related trivia questions with the audience. There are prizes, too!