#54: Lauren Ashley Smith
Magnet Theater Podcast Wednesday July 29, 2015, 7:00am - by Magnet Theater
---
Our very own Lauren Ashley Smith stops in to talk about Speech & Debate, loving television, and engaging with her dog brain. A writer for Bravo's "Fashion Queens" and VH1's "Best Week Ever," Lauren also performs at Magnet with Megawatt team TITAN and The Friday Night Sh*w. Host Louis Kornfeld kicks off their interview by discussing how she came to be involved in comedy.
Originally from St. Louis, Lauren first became interested in comedy during her days doing Speech & Debate in high school. She once found herself thrown into a "humorous interpretation" tournament and did quite well, which gave her the idea that maybe she wanted to pursue more laughs. Louis, too, did Speech & Debate in high school, which is where he finally talked to girls, so it sounds like both of them have lots of warm feelings regarding their time in S&D. Lauren's story is particularly heartwarming because her father was her coach and director, which gave them a lot of one-on-one time together. Louis wonders what traits Lauren garnered from each of her parents, and while her dad taught her how to talk forever about a subject, she says that her mom gave her a sense of humor.
After high school, Lauren did short-form improv at Dickinson College and then moved to NYC, where she became involved with Story Pirates. Though she was very shy when she got into SP, Lauren figured out that a lot of other Pirates were Magnet improvisers, which is what led her to study there and eventually, become a Magnet performer herself. Lauren describes that time in her life as a transition from that of a wallflower to the confident, outspoken person she is today.
Switching gears, Louis wants to talk about pop culture, since that is at the foundation of Lauren's livelihood. In addition to her work with Fashion Queens and Best Week Ever, Lauren also writes for humor site Reductress and other talking head and reality recap shows. She got her start producing for VH1's "Best Week Ever" and talks about the production process for that show and how she got that job in the first place. From the production side, she began pitching a lot and eventually got to submit as a writer, for which she was then hired. Writing actually became harder once she had the title, she says. When asked if she prefers working alone, or having other people to bounce ideas off of, Lauren says that she likes working in a group and using improv concepts in the writers room to collaborate on ideas. Louis shares his last writers room experience and both profess that it's very important to have a producer that trusts the writers' ideas.
So, how did Lauren become an authority on pop culture and reality TV? Her secret is out: Watch a ton of TV and be on Twitter all the time! She proves her prowess by quickly naming all of the Real Housewives locations. Though she always has favorite shows, Lauren says that she often becomes a fan of new shows by doing research for work. Lauren talks about her parents battling over whether or not she and her sisters could watch The Real World and Louis admits his TV addiction to world. Even though a lot of TV is crap, Louis thinks that you can still grow up okay despite watching it all. How does Lauren feel being a part of the negative stereotype that reality TV is rotting people's minds? She says despite the fact that many reality TV stars may serve as poor examples to younger people, there are still enough incredible moments to help her keep the faith and that there are many other factors at play for how an audience might internalize what they see on TV.
In a moment of great humility, Louis asks Lauren to explain Twitter to him. She does so very gently, and also tells us that she finds out about all major news events on Twitter and loves to play #hashtaggames. They talk about what constitutes something as newsworthy and how there's a difference between dumbing things down and making sure that shows are accessible and relatable. To that end, she wishes she were a sillier person. Louis relates, saying that he wants to start closing the gap between his "show brain" and his"shower brain," which Lauren says is the same as her "dog brain." There are a lot of brains at play in this episode!
Finally, learn about who Lauren idolizes, the price we pay for being so angry all the time, and how Lauren's family feels about her comedy.
Tune in to hear all of that, plus Lauren and Louis say "magnet" twice without intending to reference the Theater!
[soundcloud url="https://api.soundcloud.com/tracks/216653970" params="color=ff5500&auto_play=false&show_artwork=true&show_playcount=true&show_comments=true" width="100%" height="81" iframe="false" /]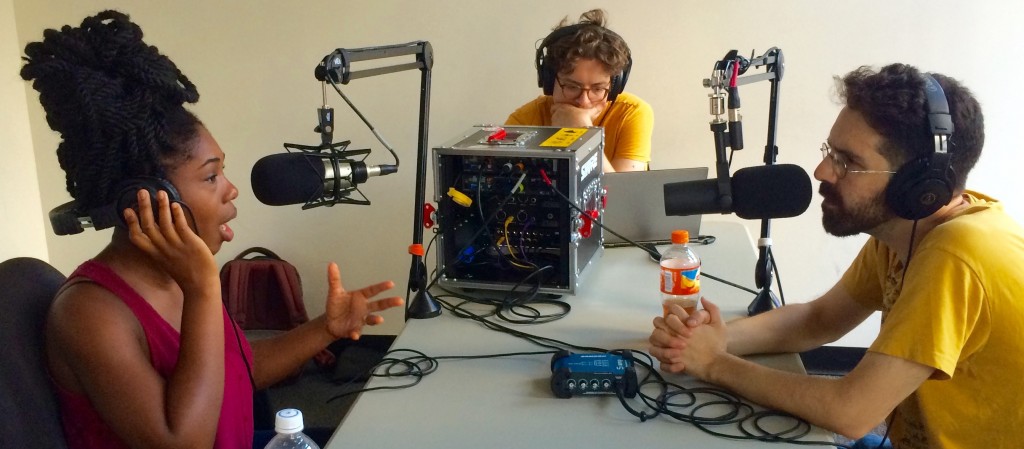 Tags:
All That
,
armando diaz
,
Best Week Ever
,
Black Twitter
,
Bravo
,
Buffy The Vampire Slayer
,
comedy
,
Dickinson College
,
Fashion Queens
,
Friday Night Sh*w
,
Friday Night Show
,
hashtag games
,
Improv
,
improvisation
,
interview
,
James Eason
,
Lauren Ashley Smith
,
Louis Kornfeld
,
magnet
,
magnet theater
,
magnet theater podcast
,
magnet training center
,
new york
,
new york city
,
nyc
,
podcast
,
production
,
reality TV
,
reductress
,
SNICK
,
Speech & Debate
,
speech and debate
,
St Louis
,
story pirates
,
television
,
The Real World
,
TITAN
,
TV
,
Twitter
,
VH1
,
writing