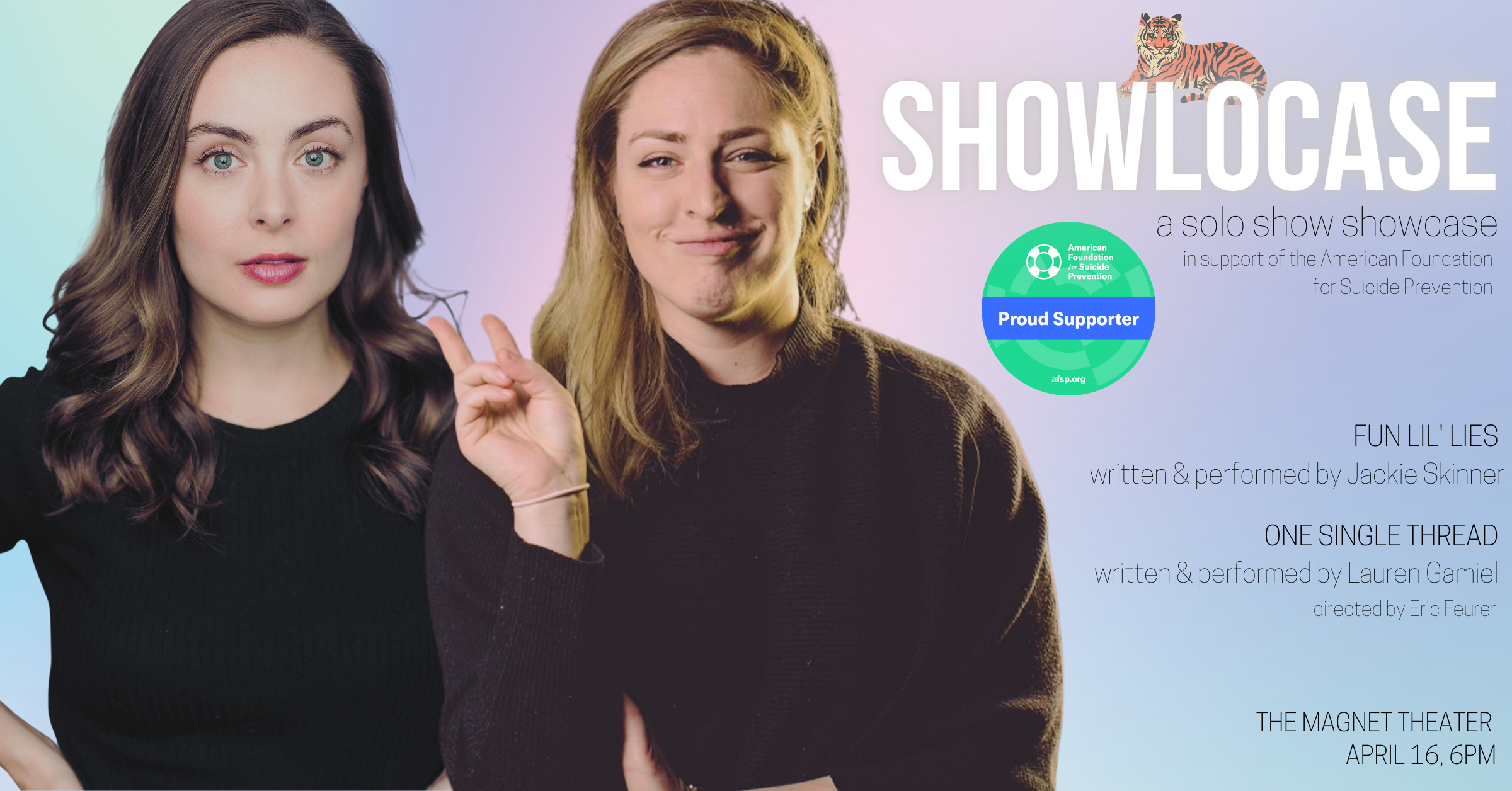 About the Show
NYC character comedians Jackie Skinner and Lauren Gamiel bring their 30 minute solo shows together for an hour of form-bending characters, impressions, music, stand-up, and more. Both shows are directed by Eric Feurer, with One Single Thread featuring Julia Schroeder, David Ventura and Slaney Rose Jordan. 20% of all ticket sales will benefit the American Foundation for Suicide Prevention, and 100% of post-show bake+swag sales will benefit the cause as well.
Jackie Skinner is a comedian, writer, and performer based in NYC. She performed with the Magnet Theater weekend sketch team, The Executives, and ran her solo show Fun Lil' Lies at UCB Hell's Kitchen, PIT Solocom, Improv Boston, Chicago Sketchfest and more. She has been studying improv since Fall 2014 at the Hideout and Institution theaters in Austin, Second City in Chicago, and Magnet in NYC. Having also studied sketch comedy at Second City, she has written and performed sketch at NYC's Magnet and Reckless theaters. In addition to sketch and improv, Jackie can be seen performing stand-up comedy in NYC. She's performed shows and festivals all over the US, including the Boston Comedy Arts Festival and Funniest Person in Austin.
Lauren Gamiel is a NYC-based writer, actor, comedian and musician. She studied improv and characters at the Upright Citizens Brigade and later served as writer/performer on the Magnet Theater house sketch comedy team Souvenir. Currently, she is completing the Atlantic Acting School Evening Conservatory program on a merit scholarship. She performs characters, improv and sketch regularly throughout the city, and has written and performed at PIT Sketchfest, the 24-hour sketch show PIT Cram'n It and more. She was a co-creator of the web-series, MEANS, which is partly based on her real life working as a veterinary assistant. Most recently, one of her pilot scripts made it to the Semifinals round of the Screencraft Pilot Launch TV Script Competition. Her "solo-ish" show One Single Thread has run at the Magnet Theater in 2021, and she is very excited to be bringing it back again.


Magnet Theater
254 West 29th St.
New York
NY
10001
Performers