King of Shows Presents…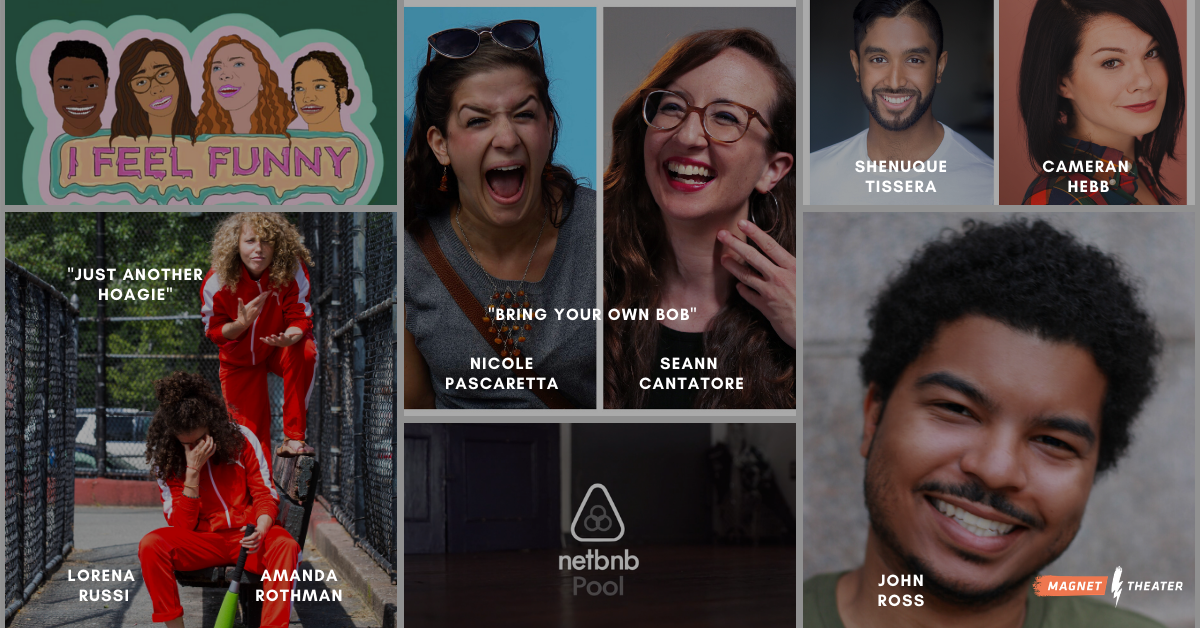 Performers, Uncategorized Monday November 25, 2019, 2:53pm - by Magnet Theater
---
Meet the performers!
'King of Shows Presents…" is Magnet Theater's talent showcase that brings together veteran and up-and-coming performers in improv, comedy video, music, stand-up, sketch, storytelling, character, and more! Come check out these talented performers at the holiday edition of 'King of Shows Presents…' on Thursday, December 12 at 10:15pm. TICKETS
I Feel Funny
'I Feel Funny' is a fresh take on the comedy variety and sketch show. Featuring filmed sketches and a live showcase of female-identified comedians that bring all their true emotions to the surface - what we usually keep inside comes out in this gut-busting show. Created, written, and performed by: Caroline Castro, Elsa Bermudez, Francis Fuster, Jennifer Epperson, and featured writer Essence Stewart. Directed by John Ross. Check out their indiegogo campaign HERE
John Ross
John is an actor, producer, and director (with an engineering background!) from Huntsville, Alabama. He has been performing comedy in New York since 2014, and studied at both Magnet Theater and UCB. John performs weekly with Magnet Theater's improv house team Butter Butter Butter!, the Magnet Theater weekend sketch team The Nitro Girls, co-organizes Magnet's Remix: Diversity Sketch Lab, and performs with StoryPirates, the children's theater company. He directed 'I Feel Funny', and appeared in the web series Multitudes, Episode 1 - "Lucy Falls Apart Over A Pumpkin" written by Devin O'Neil & Kristina Grosspeitch. WATCH IT HERE
Bring Your Own Bob
"Bring Your Own Bob" is a musical improv duo featuring Seann Cantatore and Nicole Pascaretta. These extremely kind musical theater nerds use their chemistry (and real-life friendship) to their full advantage on the stage. They create bold, playful and hilarious character-driven pieces that will leave you feeling good and full of laughter. No matter what musical adventure these two choose, they will always have each other's backs on (and off) the stage. WATCH Seann & Nicole
Shenuque Tissera
Shenuque Tissera is a Sri Lankan American comedian born and raised on Staten Island. His comedy raises hard hitting questions (and also soft hitting questions) addressing topics ranging from race to interactive plays. Shenuque has performed at festivals such as the 5th Borough Comedy Festival, NYC Sketchfest, and YAAASfest. He is the host/producer of the monthly sold-out Token White Guy Show (QED), and a featured writer/performer for sketch group's Kennedy's Mistress and Face For Radio. If you're wondering whether or not he's doing this full-time his answer is, "Yes, please don't tell my parents". LEARN MORE ABOUT SHENUQUE
Just Another Hoagie
An improv duo about two ex-softball coaches (and twins) from Jersey - Rudy Plumduster (Amanda Rothman) & Hayden Plumduster (Lorena Russi) - trying to perform improv comedy for the first time. Featuring Magnet veteran performers Amanda Rothman, an actor, comedian, and most recently an NYU drama therapy master's student; and Lorena Russi (Writer - 'Late Show w/ Stephen Colbert' Digital Team, Vice), a Queens-native, queer-Latinx comedian, pro-soccer player, and host of Chipotle's Snapchat channel!
Cameran Hebb
Cameran Hebb a New York based actor and comedian. She was a member of the acting residency at the Flea Theatre in Tribeca (The Bats) for three years, and performed at the Whitney Museum. She won the New Talent Competition at Gotham Comedy Club (2016) and the New Talent Competition at Broadway Comedy Club, was a finalist for Ladies of Laughter competition, and competed in the prestigious Seattle International Comedy Competition. She has performed at the Cinderblock festival and the Women in Comedy Festival in Boston.
Netbnb Pool (Comedy Video)
Netbnb Pool is a commercial parody video featuring Brian Alexander, a writer for the sketch team Steve's Hard Milk, and featured in Vulture Comedy (Splitsider), Someecards, Points in Case, CollegeHumor, National Lampoon, and Robot Butt; Jason Wildhagen, a Brooklyn-based comedian; J.M. Porup, an improviser, clown, and standup comedian who plays the ukulele; and Alan Khanukaev, writer and performer.