Q&A: Sisters Three with Elana Fishbein & Elena Skopetos
Interviews Thursday February 28, 2019, 12:27pm - by Magnet Theater
---
Once again, Sisters Three is coming to the Magnet stage! Not only is it a New York Times Critic's Pick, but Sisters Three is the brainchild of Magnet champs Elana Fishbein and Elena Skopetos, and directed by Peter McNerney. With only two performances this month, we were eager to get the inside scoop on this fan fave. Sisters Three will bookend the month with shows this Saturday, March 2 at 10:30, and Sunday, March 31 at 9:00.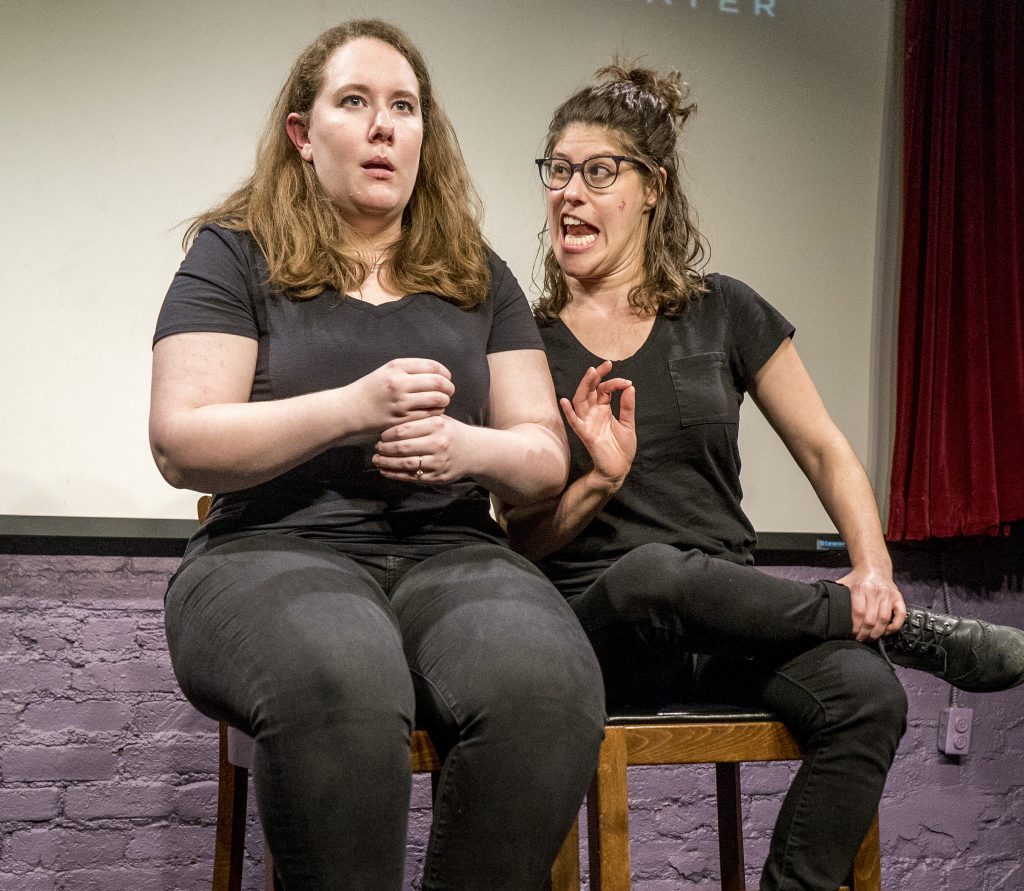 Sisters Three is an incredible show. Can you describe the show for someone who's never seen it before?
Sisters Three is essentially a two-woman Harold that's been mercilessly restaged over and over until Peter McNerney gets his way. (If you don't know what a Harold is, you should take Level 3 with Louis Kornfeld... there's probably one starting next week!)
How did you guys come up with the premise for it?
We basically got together once a week for a year to spend an hour wasting time and then being like "guys, we should really start."
How many times has Sisters Three been performed?
We've put up the show around 25 times at Magnet, twice in Philly, twice in Oslo, once in Gothenburg, Sweden, and once in Greenville, South Carolina... oh, and one time at the training center for Pat May. We changed a line about Home Depot to Ikea when we were in Scandinavia and, yeah, it went over pretty well... so now we're equally famous everywhere!
Each character is so distinct. How do you build characters that are so unique?
By talking different or, like, making different faces.
One of the best parts of the show is watching you guys snap instantly into a new voice and new body without missing a beat. What are the challenges of having to play so many characters back to back to back?
Elena and Elana play about 30 characters over the course of the play, which really hasn't helped anyone remember whose name is whose. It has, however, made Elena and Elana much better at imitating young boys, a skills that will surely yield great fortunes in the future.
Who would benefit from seeing this show?
Sisters, of course! Or brothers. Non-binary siblings or cousins. A dog and a cat. CEOs, CFOs, ideally AOC or a proxy representative. Instagram influencers or people who are just really into texting friends. Broadway dads who love to LOL. Etc.
There are only two performances of Sisters Three up this March, so be sure to buy your tickets before they sell out! Shows are Saturday, March 2 at 10:30, and Sunday, March 31 at 9:00.