Magnet Theater is Community Elf-in-Charge of Operation Santa–and we need your help!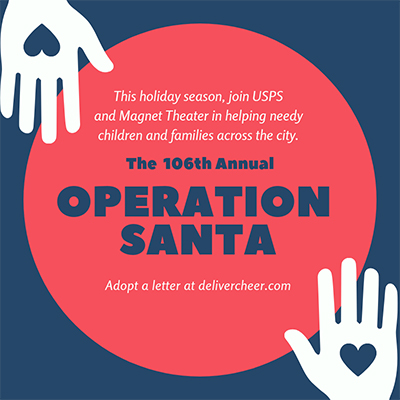 Charity Monday December 3, 2018, 4:16pm - by Magnet Theater
---
Since 1912, the United States Postal Service has undertaken a massive and historic effort each holiday season to answer the letters children send to Santa Claus. This year, Magnet has been selected to work with Operation Santa in spreading the word about the USPS letter-writing campaign to the greater NYC community, as Community Elf-in-Charge! Members Jackie Skinner, Michelle Francesa Thomas, and Shelley Little of sketch team Perfect Storm have volunteered to be representatives for our community. The focus is both to share the program information to audiences who might adopt letters, and to share the information with people who might benefit from writing in their requests.
How does it work?
Members of the community "adopt" and answer letters sent to Santa, often sent from underprivileged children and families, and often send a much-needed gift. Right here in Manhattan, the largest Operation Santa takes place, with volunteers from "recognized charitable organizations, major corporations, local businesses, private citizens and postal employees making major differences in the lives of children from coast to coast," according to the Operation Santa website. For a quick overview of the program, you can check out this video.
So, are you ready to roll up your sleeves and do some good work? We are thrilled to participate in a program that brings joy, clothing and other items to families in need. Let's brighten the holidays for kids all over the country!
Here's how you can help:
Adopt a letter. 

You can either adopt a letter

in person, at a participating location,

or

adopt one online

, and answer a kid's letter! Easy as that.

Fulfill a wish. If your recipient has asked for a specific item in the letter, send it to them as a gift! Your help can make the holidays truly special for a child in need.
Get people participating. If you know someone who could benefit from this program, they can write in their requests to: 

Operation Santa, 421 8

th

Avenue, 

New York, NY 10001

Spread the word! This is the most important part. Email blast your soccer team, post it on social, tell the folks at the office water cooler. The more people who get involved, the more magic--and the more aid--for all the kids participating. Use hashtags: #USPS #DeliverCheer #OpSantaNYC and #OpSantaElf.


Additionally, we'll have a table set up in the Theater's lobby during the week of 12/10 to collect small donations, which we will pool together to fulfill letters on behalf of the Magnet community. Here are the times when you can stop by the lobby to contribute:

Monday, 12/10, 9:30-10:30 p.m.
Tuesday, 12/11, 6:30-9:30 p.m.
Wednesday, 12/12, 6:30-9:30 p.m.
Sunday, 12/16, 6:30-9:30 p.m.

For more information about Operation Santa, including send-by dates, you can check out the

USPS Holiday Newsroom

, or read this

FAQ sheet

. All right, Magnet community, time to roll up your sleeves! Help us make a difference and spread some cheer!