Q&A: "Matt Koff & Friend" with Matt Koff
Interviews Wednesday September 13, 2017, 7:00am - by Magnet Theater
---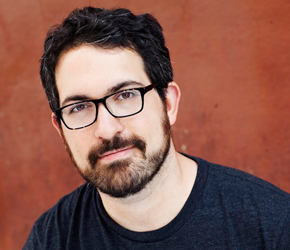 Matt Koff is a comedian, recovering improviser, and Emmy-award winning writer for his work on The Daily Show. As one of the first Magnet students, Matt brings his comedy back to the theater for a stand-up comedy series. "Matt Koff & Friend" features a half hour of comedy from Koff himself, as well as another half hour from a comedian of his choice.
How long have you been performing stand-up comedy?
For about 7 years now. I had been doing sketch and improv for about 5 years prior to that. I'm old. Older than the Tennessee Valley herself, some might say.
How would you compare the NYC stand-up scene from when you first started to now?
When I started there seemed to be a lot of crazy people at open mics. I do fewer mics now but the ones I go to don't seem to have people who've just wandered in from Times Square talking about how they'd like to rape the Statue of Liberty or whatever.
As far as I can tell it hasn't really changed. I've changed a little bit. In the beginning I was one of the scared newbies at mics who just hoped my 4 minutes of jokes worked. Now I'm less scared and not a newbie. I'm old. So old. Although trying out a new joke will always make me nervous. One day I hope to stop caring, so I can finally start talking about my true passion: sexually assaulting large statues.
Can you tell us about a time that you "bombed" on stage?
Yes. I can tell you about several times. But the worst I've ever bombed is when I was at The Comedy Store in LA. It was my first and so far only time performing there, I went up at like
1:30am
and there was just silence. I swear I could hear the ghost of David Letterman weeping.
When did you start taking classes at Magnet Theater? Did you learn anything from the classes that you still use in your work today?
I started taking classes here when it first opened. Before that I'd been studying with Armando when he taught classes independently. That's right, PRE-Magnet. Which makes me a pretty cool guy.
One thing I learned that I still use today, mainly in writing, is to patiently explore an idea and don't be afraid of letting it form organically. Armando also stressed the importance of being a philosopher and constantly asking why things are the way they are in every day life, which is hugely important in every form of comedy, especially stand-up.
What does stand-up comedy bring to you that improv does not?
With stand-up, you don't have to wait for anyone. You can go and do 3 sets a night and develop as fast as you want to develop. It also gives you an opportunity to hone and workshop an act again and again which I find really fulfilling.
But every so often I will do improv with the other Daily Show writers, and I find that fun in a completely different way, because obviously there's no real plan and you don't know what's going to happen next.
In hindsight, I think I have more fun doing improv. But I didn't start doing comedy to have "fun." I did it to suffer. And for the free drink tickets. ;-)
Who would be your ideal guest to perform the 2nd half hour on Matt Koff & Friend?
Adam Wade. And I was lucky enough to get him!
How do you like performing stand-up in an improv theater setting?
I like it a lot. The audiences are really smart, and there are very few drunk bachelorette parties in the audience who interrupt my set and laugh at the wrong parts of the joke. Quiet, ladies! "So I just had arm surgery" is not a punchline!
Come see Matt Koff & Friend Monday September 18th at 9pm with special guest Adam Wade!