#133: Keisha Zollar
Magnet Theater Podcast Wednesday August 2, 2017, 7:00am - by Magnet Theater
---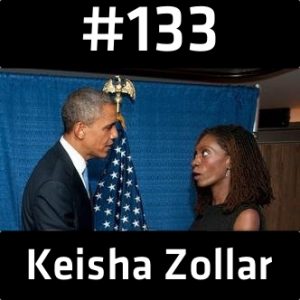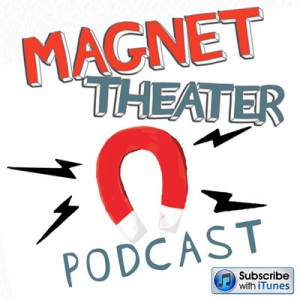 Actor and comedian, KEISHA ZOLLAR, joins host Louis Kornfeld to discuss the role of comedians in society, why she hates revenge stories, and the issue with overly dramatic art. Not only that, but they get to talking about how we give too much energy to our lizard brains and urge everyone out there to show your weird! This is our final episode of the season, but we'll see you again in September. From all of us to all of you, thanks so much for listening and huzzah!
Our fabulous guest and intrepid host begin this episode laying out the three or four types of bad, real-world comedy and note that the bully flavor of "funny" still persists, despite how god-awful it is. Keisha posits that perhaps we, as comedians, need to rally a bit more against bullies and the behavior they propagate. She also says that Louis has "an intense face" and Louis seems to agree. They talk about being "on" all the time and how common folks expect comedians to behave day-to-day. They get into the role of comedians in society and the responsibilities that comedians and other creators take on by assuming the mantel. Such a conversation would be incomplete without mentioning identity politics and how the comedian's ultimate job is to disrupt norms.
Pivoting like a member of Trump's cabinet, Louis attempts to take a positive lesson away from the current hot mess that is the world around us. Keisha wisely points out that, growing up, no one ever told us why democracy could be bad, reminding us that every tool is also a weapon. She relates that she often feels we give too much energy to our lizard brain and not enough to our frontal lobe, which allows us to reason.
Speaking of lizard brains, Keisha tells us why revenge stories don't entertain her and why one of her favorites movies is Requiem For A Dream. She and Louis show appreciation for feeling your feelings in-the-moment, including the negative feelings like anger and sadness. Speaking further on this, Keisha shares a bit about her lifelong experience of recurring illness and living with an invisible disability, something she brings up to highlight the fact that it's not all negative – there are positives of that life experience and the perspective it gives her is invaluable. This sparks their both Louis and Keisha's qualms with art that is overly dramatic, art that lacks the light we know to be present. As our episode comes to an end, we are reminded that the beauty of improv is that we are encouraged to show our weird, to show our uniqueness. Everyone has something. Accept your weird.
And finally, our host and guest share this special message with us, as we say goodbye to Season 3 of the Magnet Theater Podcast:
Go stare at a tree!
Don't forget to check out Keisha's own podcasts: Applying It Liberally and The Soul Glo Project.