#110: Will Jacobs
Magnet Theater Podcast Wednesday January 18, 2017, 7:00am - by Magnet Theater
---
Warm-blooded baby of sex, WILL JACOBS, drops by to talk about his foray into playwrighting, being malleable on stage, and how to provide balance on a team.  A comedy quadruple-threat, Will can be seen performing on Magnet shows like Musical Megawatt, Megawatt, and The Friday Night Sh*ow; in schools all over the city with the Story Pirates; on the internet with Cake I.D.; and oh yeah, he's also a playwright. There's a lot packed into this one, so let's just dive in!
Will begins the episode talking with Louis about Telegraph, a play he wrote while attending the Washington University in St. Louis. He discusses the undertaking of staging something so daunting as a first-time playwright. Louis and Will talk about college and Will describes what it's been like to find permission to indulge in his interests. Find out where Will's ideas come from and if their origin is different when improvising versus writing! He and Louis discuss the hurdle of playing with people who really impress you and the challenge of being malleable not only while acting but in life.
Will relays some great advice for how to behave when you're being judgemental of a scene! They discuss "wherewithal" as it relates to improv and wonder if it is the opposite of being in your head? Louis points out one of Will's greatest abilities and diving into the technique, Will offers tips on how to point out an unusual thing in a way that matters and can sustain scenes. They both agree on an improv rule: Don't be Ironic Comment Guy! Finally, these two gentlemen talk about providing balance to a team and why Spock was so great on Star Trek. Finally, we hear about how Will went from, "I could never do that" when watching improv to performing it almost every night of the week!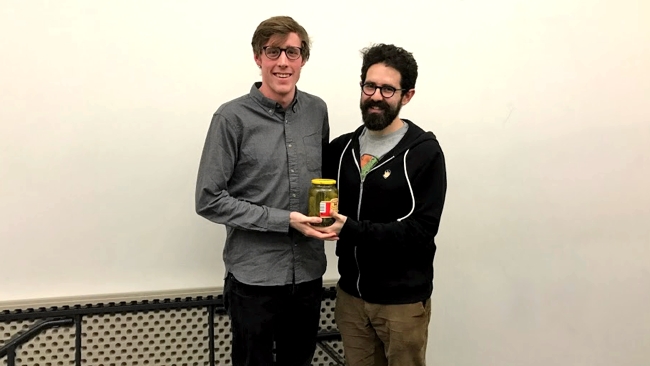 Tags:
comedy
,
FNS
,
Improv
,
improvisation
,
interview
,
Louis Kornfeld
,
magnet
,
magnet theater
,
magnet theater podcast
,
magnet training center
,
new york
,
new york city
,
nyc
,
playwright
,
playwriting
,
podcast
,
Sexy Baby
,
Telegraph
,
The Friday Night Sh*w
,
theatre
,
Warm Blooded
,
Washington University in St. Louis