SUBMIT TO: Magnet's 10 Minute Play Festival
Opportunities, Shows Tuesday January 3, 2017, 11:57am - by Magnet Theater
---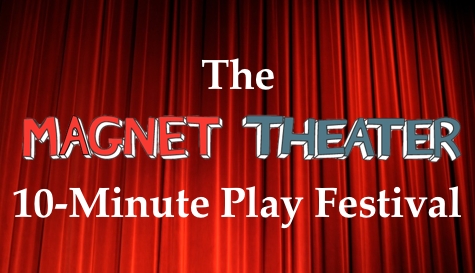 MAGNET THEATER'S VERY OWN 10-MINUTE PLAY FESTIVAL
If "write more" was your New Year's Resolution — you're in luck! We are looking for five original comedic plays to produce for our 10-Minute Play Festival, and submissions are now OPEN! Instructions and submission guidelines below.
Are you a sketch writer looking to try something new? A playwright looking for more exposure? A random internet user who stumbled across this page? Anyone and everyone is encouraged to submit. Please send us your best 10-minute play (seriously, no more than 10 minutes) and stay tuned for auditions at the end of February, as well as Magnet Theater's Very Own 10-Minute Play Festival on March 19th and 26th!
HOW TO SUBMIT
Please include the following information in the body of the email (and keep answers short!): Name; What comedy theater you are associated with (if any); Whether you have an sketch or playwriting experience (it's fine if the answer is no!); Why you wanted to be a part of Magnet Theater's Very Own 10-Minute Play Festival.
Attach your play to the email as a PDF. This is important. We won't read any other format.
Submission Guidelines/FAQs
Only one submission per person. Send us your best work!

The plays really do need to be under 10 minutes. That means no more than 11 pages, not including the cover page. We will not read past the 11th page.

We are looking for NEW plays! Please don't send anything that has already been produced.

All submissions must be in by February 19th, 10:00 pm EST. Submissions will not be accepted or considered after this time.

Notifications of selection will go out a few days after submissions close.

All authors agree to permit the Magnet Theater to produce their submitted play if the theater should wish to do so. Authors retain copyright and full ownership of their plays.

Diversity applicants strongly encouraged to submit!
Don't know what 10-Minute Play Festival is? Check out our last blog post for more info.