#106: Lane Kwederis
Magnet Theater Podcast Wednesday December 14, 2016, 7:00am - by Magnet Theater
---
She's all over the stage and screen and now LANE KWEDERIS joins us to discuss musical theater, audition wisdom, and her favorite moments from working in TV! From the Boston Conservatory to your cable box, Lane has accumulated a wealth of experience, which she shares on this episode as she and Louis discuss her career and life as an actor and comedian. Like Louis, you have perhaps never met Lane before, but you'll love her after an hour! Catch Lane every Tuesday on Musical Megawatt with Public Pool and on Mondays with sketch team The Executives!!
This episode begins with Louis admitting that he and Lane just met for the first time! It seems as though they've been ships passing in the improv night for years now. In order to get fully acquainted, Louis asks how Lane ended up as a performer. She talks about studying musical theater at Boston Conservatory and working in theater soon thereafter. So, how's she get into improv? Spoiler: It involves a casting director's suggestion and a new passion. Lane and Louis discuss the rigid musical theater machine versus the more welcoming world of comedy. Despite her initial interest in live theater, Lane is mostly working in film and TV these days. Louis asks a number of nerdy, technical acting and audition questions and Lane answers, giving particular attention to comedic choices. This is helpful information for those interested in that kind of work!
Jumping back, Louis asks Lane if she always knew that performance was her life's calling, and while she says that indeed, it was, she also mentions how she once wanted to be a veterinarian. As such, she and Louis discuss cute animals (see cat above), Lane's playful nature, and the archetypes of children. Lane also talks about the fun of performing in Urinetown as a senior in college and how she really loved the comedic aspects of it.
To bring us fully up to speed with Lane's acting career, Louis asks her to share a couple quick hits from her television appearances. She tells of what it was like to film on Comedy Central's "Broad City" and of a parlor trick gone wrong while shooting Netflix's "The Characters" with Tim Robinson. Finally, Louis asks Lane about the comedy that she writes and creates herself – what makes her laugh? – and they mull over some best-case Disney princess scenarios.
Plus! We bring you new editions of both Getting To Know Each Other and A Very Serious Scene Opposite A Jar Of Pickles!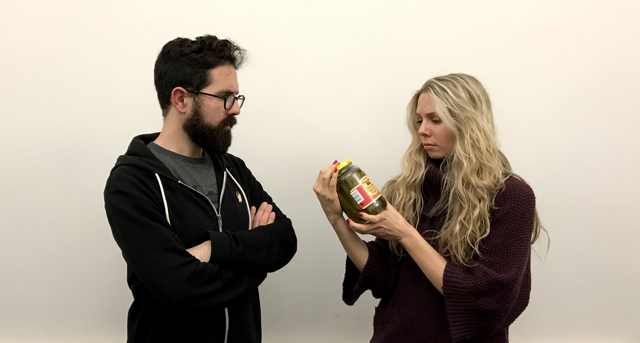 Tags:
auditioning
,
auditions
,
Boston Conservatory
,
broad city
,
cats
,
comedy
,
comedy central
,
commercials
,
Dirty Dancing
,
film
,
Improv
,
improvisation
,
interview
,
Lane Kwederis
,
Louis Kornfeld
,
magnet
,
magnet sketch teams
,
magnet theater
,
magnet theater podcast
,
magnet training center
,
musical improv
,
musical megawatt
,
musical theater
,
Netflix
,
new york
,
new york city
,
nyc
,
podcast
,
Public Pool
,
television
,
The Characters
,
The Executives
,
Tim Robinson
,
TV
,
Urinetown