#101: Dubbs Weinblatt
Magnet Theater Podcast Wednesday November 2, 2016, 7:00am - by Magnet Theater
---
Founder and host of Thank You For Coming Out, DUBBS WEINBLATT, joins us to discuss battling stagefright, coming out stories, and the show TYFCO. Dubbs talks to host Louis Kornfeld about getting started in comedy in Ohio, how great Hawaiian shirts are, and what it feels like to be cut from a team. This episode is filled with the laughs you'd expect and also a lot of honest, touching moments that we think everyone can appreciate. Dubbs FTW! Check out the next Thank You For Coming Out on Monday, 12/12, at 10:30pm.
This episode kicks off with an exploration of why Dubbs been shaken by performance anxiety lately, but before going too deep into it, we back up a bit and Louis asks how Dubbs got started in comedy. We find out that Dubbs was originally pursuing stand-up in Columbus, OH! They both talk about the difference between the fears associated with standup (you're prepared, but alone) and the fears linked to improv (you're unprepared, but with people). Eventually, Dubbs moved to NYC and signed up for a UCB intensive improv class, but never even got to take it! Instead, Dubbs found musical improv at Magnet.
Louis talks with Dubbs about coming out as gay and then, later, coming out as genderqueer. As someone who didn't fit into the gender binary, gaining the language necessary to properly articulate Dubbs' new identity was perhaps as important as anything else. Dubbs describes the lead-up to top surgery and how the effects of the surgery can be seen in the camouflage and Hawaiian shirts Dubbs wore, respectively, before and after the procedure.
Circling back to where we began, Louis and Dubbs discuss stagefright! Dubbs describes the experience of a recent show where the cast of TYFCO (literally) held Dubbs' hand leading into a scene and goes on to profess the benefits of community support. Diving further into the background of that moment, Dubbs speaks candidly about being cut from Musical Megawatt and how it hurts more being let go from within the system than not being a part of it at all. The interview ends with a bit more talk about TYFCO.
To close the show, Louis and Dubbs get to know each other with a "coffee and cake" monologue hotspot and Dubbs gives us a Serious Scene Opposite A Jar Of Pickles for the ages!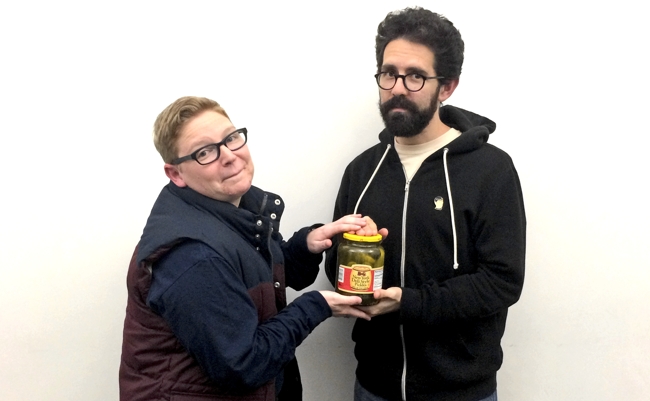 Tags:
anxiety
,
comedy
,
coming out stories
,
Dubbs Weinblatt
,
genderqueer
,
Improv
,
improvisation
,
inclusiveness
,
interview
,
lgbtq
,
Louis Kornfeld
,
magnet
,
magnet theater
,
magnet theater podcast
,
magnet training center
,
musical improv
,
musical megawatt
,
new york
,
new york city
,
nyc
,
podcast
,
stagefright
,
Standup
,
Thank You For Coming Out
,
top surgery
,
TYFCO