#95: Christopher Hastings
Magnet Theater Podcast Wednesday September 21, 2016, 7:00am - by Magnet Theater
---
Welcome back to the Magnet Theater Podcast! Louis took the summer off to backpack across Europe, rub elbows in the Hamptons, and finish planting his rooftop garden (his tan is looking GREAT). Now he's back in the saddle with the prolific and charming Christopher Hastings, a writer/performer on the Magnet sketch team Student Council and the creator/writer/artist of many comic books such as Deadpool, Adventure Time, and The Adventures of Dr. McNinja. They discuss Chris's origin story as a comic book writer and illustrator, how he found himself simultaneously in the world of comedy, and interestingly, why he eventually stopped improvising. PLUS! We debut two new segments: a two-person hotspot explosion and an improvised scene with a jar of pickles. Huzzah!!
Our heroes begin this episode talking about how Chris became the much-beloved comic book writer and illustrator he is today. He tells of attending the School of Visual Arts and his transition from being primarily an artist to being mostly a writer. Since creating his own, online, indie title (The Adventures of Dr. McNinja), Chris has worked his way to writing for Marvel, where he now authors titles such as the Unbelievable Gwenpool and Vote Loki. He discusses the differences between working for yourself versus at a major publisher and how to collaborate with artists as a writer. He also walks us through process of writing an issue of a comic and what's demanded of a writer by both the form of comics books and their publishers. With so many projects orbiting his brain-box, Louis can't help but ask what Chris's busy schedule looks like and why the heck, on top of it all, does he also do comedy. Chris answers all of Louis's inquiries and talks about how he got into (specifically) improv and why he later stepped away from it.
PLUS - Louis debuts his new hotspot segment "Getting to Know Each Other!" which features hockey, UCB, wizard beards, and corrective lenses.
DOUBLE PLUS - Louis debuts our new improvised segment! It involves a jar of pickles and you're just going to love it.
IT'S GREAT TO BE BACK!!!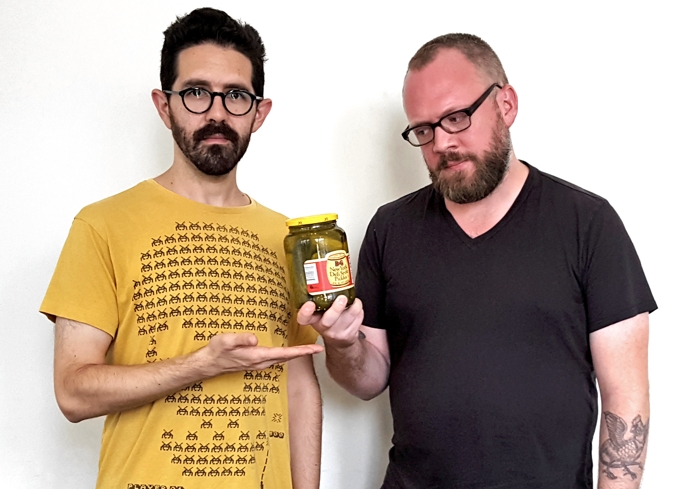 Tags:
Adventure Time
,
Carly Monardo
,
Chris Hastings
,
Christopher Hastings
,
comedy
,
comic books
,
comics
,
Deadpool
,
Dr McNinja
,
Gurihiru
,
Gwenpool
,
illustration
,
Improv
,
improvisation
,
interview
,
Louis Kornfeld
,
magnet
,
magnet sketch teams
,
magnet theater
,
magnet theater podcast
,
magnet training center
,
Marvel
,
new york
,
new york city
,
nyc
,
podcast
,
School of Visual Arts
,
sketch
,
sketch comedy
,
Student Council
,
SVA
,
writing