Christina Gausas' Duo Partner Homage
Appreciation, Improv Thursday July 9, 2015, 10:49am - by Magnet Theater
---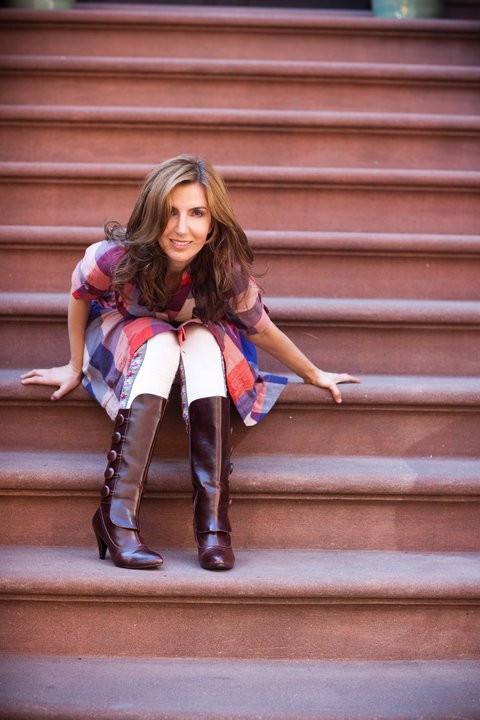 Our guest on this week's episode of the Magnet Theater Podcast, Christina Gausas, is well known for her work with a variety of amazing improv duos. As a follow up to her interview, she's returned to give a shout out to all of her duo collaborators over the years and we've given her the keys to the Magnet Blog to do just that. Take it away, Christina!
---
Ellie Kemper – GENIUS
Ellie is the brightest, most radiant light in life, on and off-stage, and she's a genius. She has infinite talent and wild, limitless lovability. Ellie is the smartest person I know and she's a creative genius. Her insights, her sensibilities, her clarity, the characters she creates are so captivating. The gifts that Ellie gives to you in scenes are so specific and brilliant. She's the most engaging, playful scene partner, and, of course, she's beautiful and warm and generous, it's exactly who she is and always has been. (We met in 2000.) I could go on for hours & pages about the talent and joy of Ellie, and the one word to encompass Ellie as an improviser and performer is – genius.
Michael Bertrando – SEXY BEAST
Bertrando is an intense talent with gravity and fun, he's fucking brilliant, too. Being able to do Come Together with Michael has really been a gift. Michael can get onstage and truly create a one-act play. He creates characters who are complex, complicated MEN, and at the same time, he's hilarious because he digs into the honesty and the emotion and he is fearless. Capital "F" Fearless. He's wickedly smart, open-minded, he is pure fire onstage.
Susan Messing – The QUEEN
Kevin Dorff is the King, Susan Messing is the Queen, and I would live in that Kingdom forever. Susan is what we all aspire to be. But I don't know that anyone can come close. I think, just bow down. Susan is the Goddess. It's Susan's world and we're just living in it.
Becky Drysdale – CREATOR
Becky is the most creative, creating, creator I know. She improvises, writes, sings, dances, animates, makes art, builds things, and she makes spaces for other improvisers. The Clubhouse in LA is amazing and she made that for other people. She did that with her school in New York, too. I was watching a documentary about Orson Welles and someone said, "there was never an Orson before him and there will never be a second," which made me think of Matt Besser, who I admire very much, and wonder if there will ever be someone like Besser again because Improv is now so big. I don't know Matt well, but he always seems brave to me, anarchistic, confident (all the UCB 4 do) — what Matt and the UCB created was non-status quo. Becky has a similar spirit. She gives it to the Indie teams.
Scott Adsit – CHARMING
I think Scott is one of the most charming improvisers in the country. I loved all of our shows.
Kay Cannon – DEEEELIGHT
I add the "e"s for how exciting Kay is onstage. Kay has the most "come run away and play with me" look in her eyes when you are onstage with her. We were only able to do one show as Cannon & Gausas and it was at a DCM and it was a delight. Kay keeps the energy, and the positivity, and the play, and the smart silliness going. You just feel so happy when you see her big eyes and her big smile. And she's that way as a friend, too. She always lifts you up.
Armando Diaz – EMPEROR
If you're reading this right now, please ask Armando to improvise more. No one else can as quickly and completely become a character the way Armando Diaz can. And I feel like he understands Comedy better than all of us. And, by "all of us", I mean, the whole, entire world. We have this treasure, this wealth of insight and improv and comedy intelligence right here in New York City and I feel like we should be seeing and using him all the time. For the sake of the future! (Sorry, Armando, no sleep for you.)
Megan Gray – The GIFT
Megan has that natural grace and comfort onstage that comes from a place of love. Much like Ellie, that light and radiance. She's a very strong and also giving improviser. I love being onstage with Megan but I also love watching her because I always feel secure. She's funny and talented and also commanding onstage. My eyes go right to her. I always want to know what her characters are going to say. Also, when you watch her in a group, she's the first one to "throw herself on the grenade." She gives unbridled support without worrying about herself. Plus, as an AD, she gives so much to the community, she really diversifies and shares, and opens doors to performers and provides opportunities to shows.
Louis Kornfeld – the ORIGINAL
I think Louis has one of the most original stage personas and it comes completely from being who he is. I think a lot of people want to play to be perceived as "smart" or "intelligent" or "understanding something you don't" but it's always bullshit. Louis is the most NO BULLSHIT player there is. And because of that, we get to see this smart, intelligent improviser, who's comfortable JUST FUCKING BEING. (As far as we can see.) And he'll create a scene that might have a central, long discussion and it's interesting as hell because it's authentic and it isn't full of self-aware bullshit, it's just honest. I hear him refer to himself as a "straight man." I have to say, I've never thought that. He's always anchoring to me. Playing with MegaLou was great.
Michael Delaney – GOLOVKIN
Boxing fans will understand. Gennady Golovkin is a boxer with every weapon in a full arsenal and he has precision. He doesn't remind you of anyone else because there's never been anyone else like him. That's Michael Delaney to me. He has every talent an improviser could hope for and he has precision. When you're watching Michael Delaney or you're onstage with Michael Delaney, you're experiencing the best of what the work can be, at all times. He's a true Master of Improvisation. We are lucky to have him. It's another "bow down" situation.
Billy Merritt – JOY
Billy and I did one show in Dave Furfero's Ampersand at the Magnet. When I think of Billy, I just think Joy. He welcomes you onstage and it's fun and easy and unquestioned for the whole show. We did Kevin Mullaney's Mullaney Chain at DCM 17. It was Kevin, Ellie, Sean Conroy, Billy, and me. I was in a scene with Billy where we were husband & wife talking to Sean's character (who was off-stage) over the phone. I said, "check the caller ID" and Billy said, out loud, to the phone, "Check Caller ID", while we were in the middle of the conversation. It was hilarious and a moment where we could get into a fun "not that way, look at the phone," "what? why?" and those ideas and that kind of play can only come from the joyous, incredibly fun, smart mind of Billy Merritt.
Kevin Dorff – KING
Kevn Dorff is the King and that's really all I have to say. He's so incredibly talented, strong, intelligent, striking, commanding, and fun. He can say more with one look or one word than anyone else onstage. Which is why I should simply say – KING.
All words not in italics written by the wonderful Christina Gausas.
Tags:
armando diaz
,
Becky Drysdale
,
Billy Merritt
,
christina gausas
,
duo improv
,
duos
,
Ellie Kemper
,
Improv
,
improvisation
,
Kay Cannon
,
kevin dorff
,
Louis Kornfeld
,
magnet
,
magnet theater
,
Matt Besser
,
Megan Gray
,
Michael Bertrando
,
Michael Delaney
,
new york
,
new york city
,
nyc
,
Scott Adsit
,
Susan Messing