Our Training Center is Also a Rehearsal Space!
Training Center Facility Tuesday May 19, 2015, 2:08pm - by Magnet Theater
---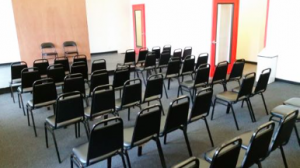 Do you need a cool rehearsal space for your team or practice group? One that's reasonably priced, conveniently located, and complete with some pretty sweet vending machines? We have a big, awesome Training Center now! You can rent a room from us! We have 10 to choose from, all ranging from $15-$35. They're pretty much perfect for improv rehearsals, writing groups, production meetings and the like. No terrifying lighting. No weird stains. Everyone wins.
Get more details: Magnet Training Center-Spaces Guide
Make it official: Book space up to two months in advance!
Have questions? Call the office at 212-244-2400 or email spaces@magnettheater.com.
And feel free to spread the word to your friends and teammates' referrals are welcomed and encouraged!