2nd Annual Musical Megawatt Fundraiser for MS
Charity, Musical Megawatt Monday February 9, 2015, 12:15pm - by Magnet Theater
---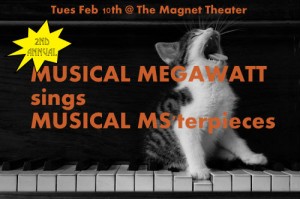 Stop by the theater tomorrow night (Tuesday, February 10th) for a very special edition of Musical Megawatt—Musical MS'terpieces! Last year, we raised nearly $400 for the National Multiple Sclerosis Society and Climb to the Top…this year, we hope to do even better and we'd love your help!
In addition to stellar musical improv from some of your favorite house teams (The Stragglers, Aquarius, Goats, Mint Condition and Wonderland), we'll also be selling baked goods and raffling off prizes to raise donations for the National Multiple Sclerosis Society. What can you win? Bottles of wine, Magnet Theater show tickets, a beach towel with the TARDIS on it, scented candles that were made by (and smell like) members of Wonderland, and much much more—all for an important cause.
Multiple sclerosis is a chronic, often disabling disease that attacks the central nervous system. The mission of the National Multiple Sclerosis Society is to mobilize people and resources to drive research and address the challenges of everyone affected by MS. All donations raised tomorrow night will benefit the 10,000 people living with MS in New York City and its surrounding areas by helping fund comprehensive programs and services for people with MS as well as ongoing efforts towards a cure.
Laugh, sing, and dance in the face of MS with shows at 7pm, 8pm and 9pm. Raffle drawings will be held at the top of the 9 o'clock hour! Baked goods will be sold all night! Plus, we'll cap off the evening with a Musical Mixer (with special guest Goats) at 10:15pm.
Hope to see you there—but if you can't make it and you'd like to make a donation, you can do so here. Thank you for your support!