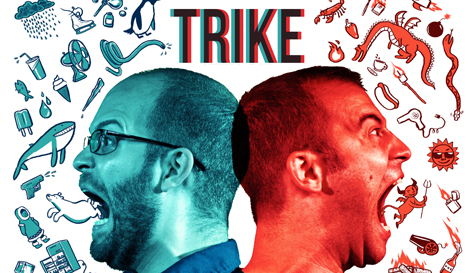 About the Show
STREAMING LIVE FROM THE MAGNET MAINSTAGE!!!
This show will be livestreamed via Twitch. To watch, all you have to do is follow this link: WATCH THE SHOW!!!
"Reliably one of the best improv performances in the city."
- The New York Times
"Nick Kanellis & Peter McNerney's fantastic late night show is upbeat and impressively layered improv that is always worth checking out."
- Splitsider.com
"Improv duo Nick Kanellis and Peter McNerney meld playful physical transformation and careful scenework in a weekly show that delivers an impressively quick and detailed overlap of events in its conclusion."
- TimeOut New York
*THE NEW YORK TIMES CRITICS PICK*
*A TIME OUT NEW YORK CRITICS PICK*
*SPLITSIDER'S GUIDE TO NYC COMEDY SCENE - BEST WEEKLY SHOWS*
Magnet Theater
254 West 29th St.
New York
NY
10001
Tickets
Trike
Sat Jun 3rd, 2023 9:00pm - $17
Trike
Sat Jun 17th, 2023 9:00pm - $17
Performers