(Virtual) Trike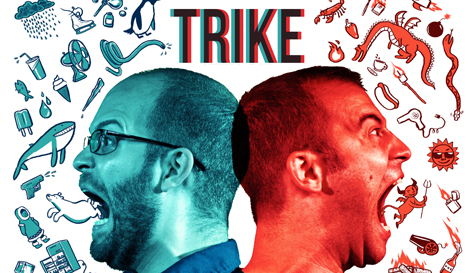 About the Show
During the temporary shutdown, Magnet is going digital! This show will be livestreamed via Twitch. To watch this show, you don't need to download anything or have an account. All you have to do is follow this link: https://www.twitch.tv/themagnettheater/
Anyone can watch this show. If you'd like to purchase a ticket (or two, or ten, go nuts!) to support the theater during the shutdown, please do so by clicking "Buy Ticket" below.
"Reliably one of the best improv performances in the city."
- The New York Times
"Nick Kanellis & Peter McNerney's fantastic late night show is upbeat and impressively layered improv that is always worth checking out."
- Splitsider.com
"Improv duo Nick Kanellis and Peter McNerney meld playful physical transformation and careful scenework in a weekly show that delivers an impressively quick and detailed overlap of events in its conclusion."
- TimeOut New York
*THE NEW YORK TIMES CRITICS PICK*
*A TIME OUT NEW YORK CRITICS PICK*
*SPLITSIDER'S GUIDE TO NYC COMEDY SCENE - BEST WEEKLY SHOWS*
Magnet Theater
254 West 29th St.
New York
NY
10001