Maaaad Late! The Improvised Late Night Show with Chris De La Cruz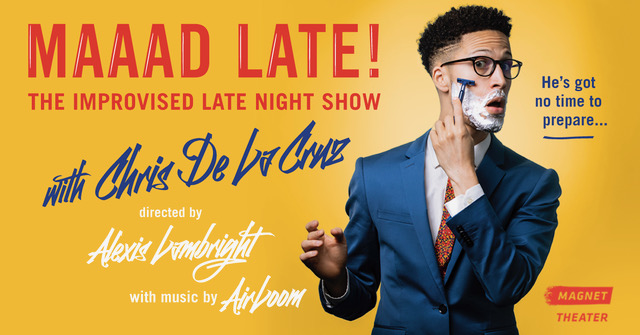 About the Show
Maaad Late! is New York City's only improvised late-night talk show where host Chris De La Cruz (The Moth, Food Network, Tonight Show) doesn't need cue cards or a writers room... he just needs YOU.
He makes up monologue jokes on the spot based on YOUR news story submissions, plays audience and celebrity games based on YOUR suggestions, and, as soon as it's time for the interviews, he books YOU or another audience volunteer as his "celebrity guest".
Accompanied by one-woman house band and beatboxer extraordinaire AirLoom (BET Her, Elle), De La Cruz hosts the only late night show where YOU get to be a writer, producer, and star all in one night!
Oh, and what about the musical guest? Well, he'll figure that out on his way there…


Magnet Theater
254 West 29th St.
New York
NY
10001