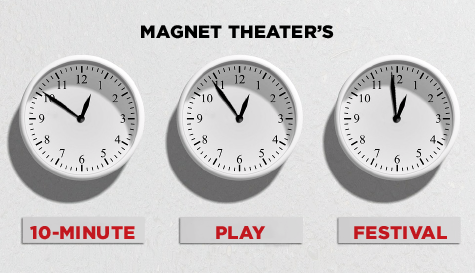 About the Show
600 play submissions from around the world. 80 auditions. The Magnet Theater draws from its best and brightest and beyond to bring you a festival that marries traditional theater with modern comedy. These five original plays will make you laugh, cry, and ruminate endlessly on the human condition.
"Pause" by Christopher Hastings
Directed by Branson Reese
Headmistress - Woody Fu
Terrence - Eli Itzkowitz
Lucky Strike - Devin O'Neill
"Goofus and Gallant" by Becca Schall
Directed by Elena Skopetos
Goofus- Rob Penty
Gallant - Cameran Hebb
"Transferring Kyle" by Jonathan Cook
Directed by Collin Batten
Kyle - Patrick Grizzard
Tina - Marie Denny
New Kyle - Johnathan Ross
"End of the Line" by Irene Ziegler
Directed by Kristina Grosspietsch
Reggie - Amanda Rothman
Bus Voice - Jennifer Anderson
Bobby - Teis Jorgensen
"Cool Chefs Jr. The Live Season Finale Spectacular Only On Fox" by Matt Cox
Directed by Evan Forde Barden
Chef Master Tom - Steven Meeker Jr.
Alex - Chloé Fulton
Sam - Nicole Adsit


Magnet Theater
254 West 29th St.
New York
NY
10001