Missed Connections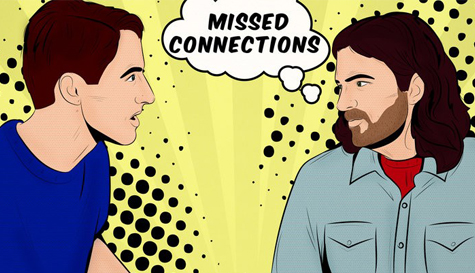 About the Show
Harrisburg Improv Theatre founders Jake Compton and Paul Barker explore themes of love, loss, and longing in this character-driven show, based off of "Missed Connections" ads on Craigslist. The audience supplies the ads, and the show is entirely made up on the spot.
About the performers:
Jake Compton is the owner/founder of the Harrisburg Improv Theatre. Jake started improvising in 2004, taking classes at both the Upright Citizens Brigade Theater and the Magnet Theater in New York. Jake's musical and prank comedy duo band Anticool terrorized Harrisburg for over 10 years with their live shows, albums, and webshow. Currently Jake is an instructor and performer at the HIT, where he can be seen in the duo Missed Connections, as well as Hardly Working, Panzer Division, and Love Triangle.
Paul Barker has been performing improv comedy since 2005. He studied long-form improv at the Magnet Theater, the Upright Citizens Brigade Theatre and the People's Improv Theater in New York. In Harrisburg, Paul was a co-founder and artistic director of the Harrisburg Improv Theatre. He performs with the improv duo Missed Connections and is on the cast of the Magnet Theater's Friday Night Sh*w. A former staff writer for TheBurg magazine in Harrisburg, Paul is now a J.D. candidate at Columbia Law School.


Magnet Theater
254 West 29th St.
New York
NY
10001
Performers