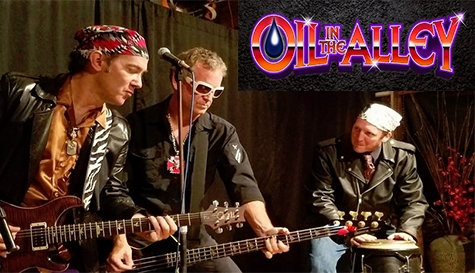 About the Show
On Tour from Hawaii for one night only! Live in concert, the world-famous uber-fantastic arena superstar rockers will play their ubiquitous megagreatest monster hits for you. You?ll scream, you?ll laugh, you?ll dance, you?ll rock out to your favorite band from the late 80s; and you?ll tell your kids about it one day with a tear in your eye, an ache in your heart, and a near-religious tone of awe in your voice.
Oil in the Alley has been improvising lyrics to their original rock music since 2010 at theatre, comedy, and music venues all over Honolulu. The show invites audiences to join in the fun of seeing their favorite big time rockstars up close and personal at the Best Concert Ever.
R. Kevin Garcia Doyle and Sean T.C. O?Malley have improvised together for over twenty years in Honolulu doing all kinds of musical, short form, and longform improv. With long-running groups Loose Screws and On The Spot, they?ve toured to festivals in Chicago and Seattle with Screwbuki, the improvised Kabuki show. Bri X provides pro rocker authenticity on the bass.
Oil in the Alley?s live album Sacred Snail is available on iTunes and Soundcloud, and was nominated for a Nā Hōkū Hanohano award for Comedy Album of the Year in 2016 (the Hōkūs are the Hawaii music industry?s Grammy Awards).
?Giving credit where it?s due, these guys can play solid mainstream rock.? ? John Berger, music and theatre reviewer for the Honolulu Star Bulletin
?These guys are so good at what they do, it feels like there?s some kind of Easter egg hidden around every verse. The music itself runs the gamut from classic rock, to REM-inspired jangle rock, power pop, new wave, and post punk . . . with such a quick, and straight-faced delivery, it?s easy to forget that the whole thing is a game.? ?Johnny Sparkles, Las Vegas comic, Pocket Knives and Lint (blog)
About My Dark Little Corner:
Channeling the sound and spirit of bands like Green Day, Blink-182 and My Chemical Romance, My Dark Little Corner present musical comedy unlike any you've seen. Their brand of pop-punk cabaret is sure to bring back many fond memories, like the time you lost your virginity behind the Saves the Day merch tent at Warped Tour '05.
No Jocks Allowed!


Magnet Theater
254 West 29th St.
New York
NY
10001