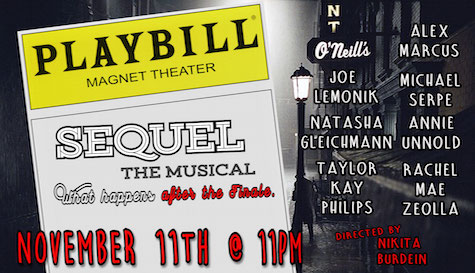 About the Show
Ever wonder if Cossete and Marius end up going into couples counseling? Or are Roxie and Velma ever able to find dates? Does the Phantom of the Opera now have to get a job at Target? Does anyone ever want to take Annie to the Prom? Find out the answers to all your Broadway musical questions with this new musical improv show. Sequel is an improvised musical show that creates the sequels to Broadway Musicals, based on the audience's favorite Broadway suggestion.
Directed by: Nikita Burdein
Featuring: Rachel Mae Zeolla, Joe Lemonik, Alex Marcus, Michael Serpe, Natasha Gleichmann, Taylor Kay Philips, Annie Unnold


Magnet Theater
254 West 29th St.
New York
NY
10001
Performers