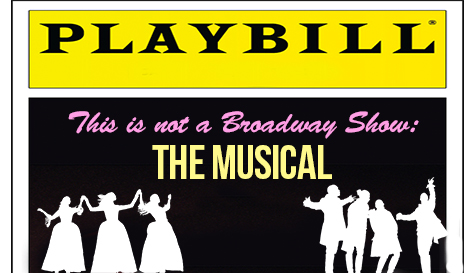 About the Show
Although the cast of this musical parody sketch show may look like dazzling Broadway stars*, have voices like buttah**, and plan on drinking heavily after the show***, do not be confused: this is NOT a Broadway show. But we're taking the best of Broadway and infusing it with comedy gold. Now you can finally fill that Musical-Theater-sized hole in your heart that's been there since you got rejected from your high school production of Guys and Dolls. This show is**** hosted by Neil Patrick Harris.
*people you might find in the Panera down the street
**we could maybe get into Awesome 80s Prom
***100% true
**** is not

Writing and performing talent from Broad City, Master of None, The Characters, Dirty Dancing (Nat'l Tour), Full Frontal with Samantha Bee, One Slight Hitch with Lewis Black, Guyism.com, VH1, UCB Theatre, The PIT NYC, iO Chicago, The Frisky, Reductress and more!
Brennan Lowery also featured.


Magnet Theater
254 West 29th St.
New York
NY
10001