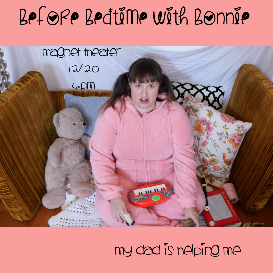 About the Show
This late night show is early enough that host, 8-year old Bonnie can get to bed on time. Complete with monologue jokes, famous guests, and a house band that her dad sometimes jams with, Bonnie is sure to tickle your funny bone while getting your home at a reasonable hour!
Written by: Jana Schmieding, Laura Grey, Lauren Olson
Directed by: Lauren Olson
Special guest appearances by: Megan Gray, Louis Kornfeld, Lauren Ashley Smith, Madonna Rafugia, Alan Fessenden, Louie Pearlman, The Cast, The Great American Country Drifters, Christian Paluck as Bonnie's Dad


Magnet Theater
254 West 29th St.
New York
NY
10001