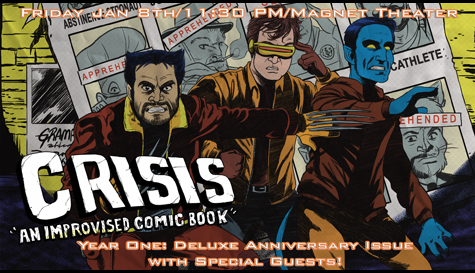 About the Show
CRISIS: AN IMPROVISED COMIC BOOK celebrates one year of super-powered spontaneity! For this special anniversary show, the hilarious heroes that YOU the audience helped to create over the past year will join forces and attempt to assemble a league of their own to fight the ever-increasing agents of evil and entropy. Can these fantastic defenders of justice unite their extraordinary powers under a common cause to avenge wrongdoings as the planet's new guardians? Come watch these watchmen to find out!
Featuring super special guests: Aaron Gold, Lisa Flanagan, and Boris Zilberman
About CRISIS:
Ever since that fateful night when Matt Kerstetter, Kevin Tully, and Mark X Guinn witnessed the murder of all of their parents at once in an alley behind an improv comedy theater, they swore together to become more than men. They have traveled through time and space, honed their improv skills among wolves, kidnapped by a secret organization that conducted terrible experiments on them, augmenting their "Yes, And" skills beyond the normal human limit and after escaping, a wizard sent them to the past, when they all punched Hitler at the same time brining them to present day America. By day they are millionaire playboy-philanthropists, and by night they are the improv team CRISIS! When their powers unite they are able to accomplish what no one of them can do alone, and improvise the origin story and adventures of a never-seen-before superhero in the style of reading a graphic novel. They also team up with Superfriends in the comedy community who perform sets inspired by comic book tropes.


Magnet Theater
254 West 29th St.
New York
NY
10001