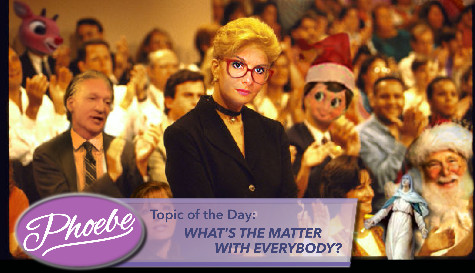 About the Show
Have you been bullied because your nose is a different color than the other reindeer? Do you think Christmas should be a required global celebration or secretly observed underground? Have you gone insane because your older brothers are Jesus and Santa and you happen to be the Easter Bunny? Join Phoebe Jessy Raphael's LIVE studio audience as she settles these Christmas controversies with a host of holiday wackos. Find out who's going to boot camp, save the life of Tiny Tim and watch Phoebe Jessy Raphael: A Talk Show Christmas Special as The Elf on the Shelf watches you!
WRITTEN BY Phoebe Tyers, Diego Martinez, Matt Wassung
STARRING: Matt Alspaugh, Casey Bartolucci, Jon Bander, Kevin Cobbs, Michael Delisle, Kate Emswiler, Alan Fessenden, Shacottha Fields, Megan Gray, Eli Itzkowitz, Brendan Jordan, Kyle Levenick, Michael Lutton, Liz Migliaccio , Ari Miller, Andy Moskowitz, Nick Mykins, Jimmy O'Connell, Lauren Olson, Dennis Pacheco, Becca Schall, Jana Schmieding, Matthew Sellitti, Chris Simpson, Caitlin Steitzer, Dede Tabak, Claire Tyers, and Rosie Whalen!


Magnet Theater
254 West 29th St.
New York
NY
10001