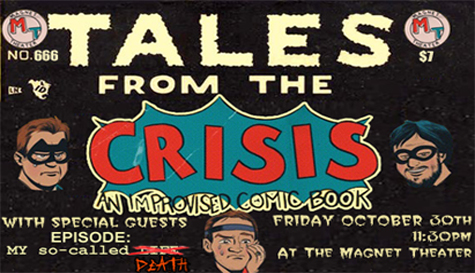 About the Show
TALES FROM THE CRISIS is a creepy comedy variety show of fools and ghouls! On October 30th, the eerie eve before Halloween, the wisecracking crypt-keepers of CRISIS will spontaneously spin a spooky story of suspense and the strange in the style of reading a pulp horror comic book. And just when you think you're safe, the impish improvisers of EPISODE extemporaneously reanimate the 90's t.v. series, My So-Called Life... or should we say, My So-Called DEATH?!
Candy! Costumes! Comedy! CHAOS!!!
About CRISIS: Ever since that harrowing night when Matt Kerstetter, Kevin Tully, and Mark X Guinn were bitten by werewolves at the same time, they had no choice but to become something other than regular men. They have traveled through the veil which separates the light from the dark, witnessed horrors no language can describe, and accepted an infernal contract to augment their "Yes, And" skills to maddening levels. A necromancer returned them to this world, and they all drove stakes through Dracula's heart at the same time before returning to New York City as haunted shells of their former selves. By day they hunt monsters, but by night they know themselves to be the real monsters- the improv team, CRISIS! Together, they conjure occult forces to improvise a never-before-seen (perhaps never-meant-to-be-seen) tale of terror in the style of reading a graphic novel.
About EPISODE: Episode is an improvised set of your favorite- mostly Rebecca Acevedo's favorite- TV Shows from the past and present. With a rotating cast of performers as the characters you know and love.


Magnet Theater
254 West 29th St.
New York
NY
10001