Bonus Round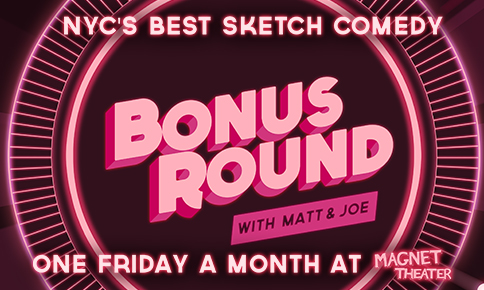 About the Show
You know that dream you have where all of New York\'s very best Sketch Comedy Teams gather together to perform their favorite sketches just for you? Your dream is now a reality- BONUS ROUND is here!
Hosts Matt Antonucci and Joe Lepore gather together the top House and Indie sketch teams in NYC to showcase their best stuff for a magical evening of comedy delights. Each team brings their own style and flavor to help create that show you\'ve been dreaming of!
This Month Features:
Matt Alspaugh
Brad Howe
Michael Delisle
Rebecca Robles
Becca Schall
Jamaal Sedayo
Megan Meadows
Jon Bander
Rosie Guarino


Magnet Theater
254 West 29th St.
New York
NY
10001