Jana & Lauren Presents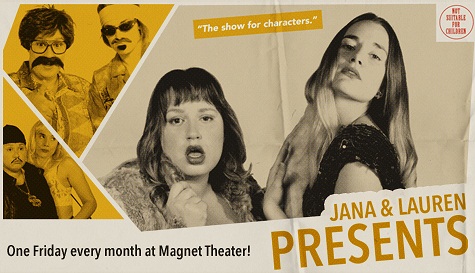 About the Show
Jana & Lauren Presents is a monthly character showcase hosted by Jana Schmieding and Lauren Olson. Each month they host a rotating line up of badass NYC comedic actors performing new original characters. Consistently weird, wonderful, full of surprises and a lot of laughs. This show is not to be missed.
Featuring:
Katie Hartman (Skinny Bitch Jesus Meeting, Gypsy Danger, Big Black Car ? The PIT)
Rob Cuthill (Quick Draw ? Hulu original series; 212 - Upright Citizen's Brigade)
Christian Paluck (Late Night with Conan O?Brien - NBC; Amira & Sam; The Armando Diaz Experience - Magnet Theater)
Matt Evans (Writer ? Comedy Central; On-air personality ? NickMom; 4Track ? The Magnet)
Matt Alspaugh (Party ? Magnet Theater; Story Pirates)
Matt Antonucci (College Humor; Wendigo ? Magnet Theater)
Andrea Palumbos (Sesame Street; Theme From Jurassic Park)
Ally Kornfeld (Baby Shoes ? Magnet Theater)
Michael Delisle (Action Park ? Magnet Theater)
Magnet Theater
254 West 29th St.
New York
NY
10001