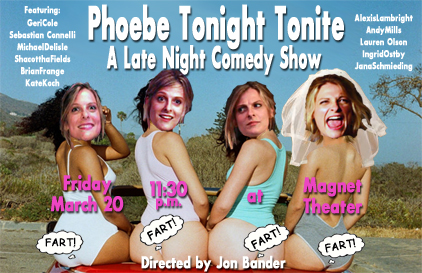 About the Show
Phoebe Tonight Tonite is a late night show that does what a late night show does except Phoebe will be married by the end. Come! Learn how to make blueberry pie, gather tips from a real live married couple, meet Kim Kardashian and find out if Cat Island is real place or a just youtube wet dream.
Directed by Jon Bander
Guest starring: Mike Delisle, Matt J. Weir, Brian Frange, Sebastian Conelli, Kate Koch, Alexis Lambright, Jana Schmieding, Ingrid Ostby, Charles Gould and more.


Magnet Theater
254 West 29th St.
New York
NY
10001