You Are Not Alone: An Uplifting Show About Depression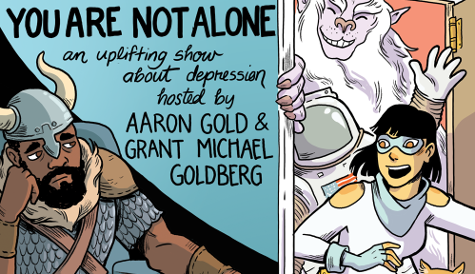 About the Show
You Are Not Alone unites improvisers and artists that battle depression and mental illness in their day to day lives. Improvisers create scenes inspired by essays written about personal experiences and show that sometimes laughter really is the best medicine.
Depression in ourselves and those we love is a burden we all have to carry and this show hopes to lighten that load.
Hosted by Gold and Goldberg, AKA The Golden Boys, You Are Not Alone hopes to spread awareness and correct misconceptions about depression, all while entertaining and having fun.
Essayists: Jon Bander, Nicole Richards, Jake Serlen (as read by Aaron Gold)
Improvisers: Rebecca Acevedo Jon Bander Shaun Farrugia Aaron Gold Grant Goldberg Pat May Katie Mordhorst Michael Serpe Candice Opperman Cynthia Restrepo


Magnet Theater
254 West 29th St.
New York
NY
10001
Tickets
You Are Not Alone: An Uplifting Show About Depression
Sun Dec 19th, 2021, 9:00pm - $10
You Are Not Alone: An Uplifting Show About Depression
Sun Jan 16th, 2022, 7:30pm - $10