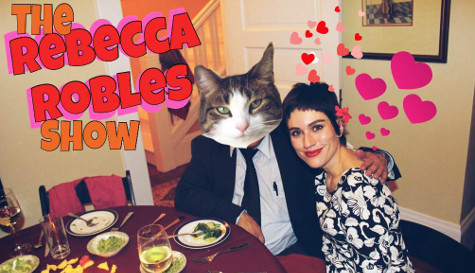 About the Show
Ring in Valentine's Day 2015 with The Rebecca Robles Show! The show with THE MOST DECORATIONS OF ALL TIME!
Come meet ALL of Rebecca's ex-husbands!
Be there to see John Travolta's video response to Rebecca's fan letter! And hear ALL ABOUT his love life! The FULL SCOOP!
Plus watch Rebecca's cool Mexican Ex-Cop dad read excerpts from 50 Shades of Grey! He has a REALLY beautiful/hard to understand accent!
MAJOR PROMISE ALERT: At least 2 audience members WILL FALL IN LOVE!!!!!!! We're being frightfully serious!
There's ALWAYS a big, beautiful TOTALLY nuts opening dance number featuring all of Rebecca's friends who owe her a favor.
See you there!!!!!!!
Written and Produced by: Rebecca Robles & Matt Antonucci
Directed by: Phoebe Tyers
Additional segments written by: Jesse Acini & Jen Chuck


Magnet Theater
254 West 29th St.
New York
NY
10001