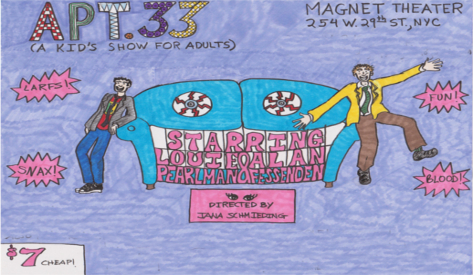 About the Show
APT 33 is a new kids show for adults hosted by adults who act like kids starring Alan Fessenden (The Weave, Hello Laser) and Louie Pearlman (Spidey Project, Story Pirates).
Part Pee-Wee's Playhouse and part Satre's No Exit, APT 33 explores what happens when two men-children refuse to grow up and attempt to host a demented kid's show from their apartment. Expect goofy instructional segments, playing with action figures, some great songs and nightmarish bloodshed to ensue.
Also featuring Jo Kroger
Directed by Jana Schmieding
Stage Management by Candice Opperman


Magnet Theater
254 West 29th St.
New York
NY
10001