Jana & Lauren Presents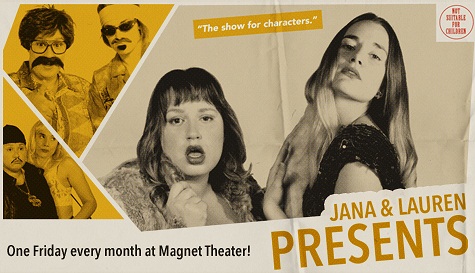 About the Show
Jana & Lauren Presents is a monthly character showcase hosted by Jana Schmieding and Lauren Olson. Each month they host a rotating line up of badass NYC comedic actors performing new original characters. Consistently weird, wonderful, full of surprises and a lot of laughs. This show is not to be missed.
www.janaandlaurenpresents.com
Christian Paluck (Late Night with Conan O?Brien - NBC; Amira & Sam; The Armando Diaz Experience - Magnet Theater)
Sebastian Conelli (Late Night with Seth Meyers ? NBC; Improv4Humans)
Jamaal Sedayao (Jamaal Sedayao: Born to Karaoke, The Misses ? The Magnet)
Michael Delisle (Action Park ? Magnet Theater)
Adam Twitchell (Wendigo, Hardy, Silent Movie Night - Magnet Theater)
Matt Wassung (Stockton, It's Pronounced Wassung - Magnet Theater)
Ingrid Ostby (Reductress; Action Park, The Stank ? Magnet Theater)
Pratima Mani (Buddy Club ? Magnet Theater; Foxtrot; Dream Police)


Magnet Theater
254 West 29th St.
New York
NY
10001