Jana & Lauren Presents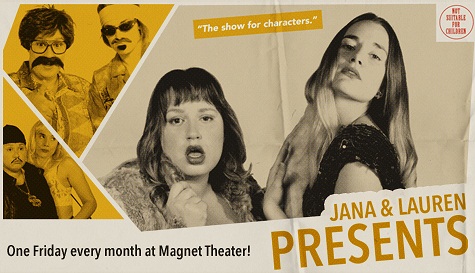 About the Show
Jana & Lauren Presents is a monthly character showcase hosted by Jana Schmieding and Lauren Olson. Each month they host a rotating line up of badass NYC comedic actors performing new original characters. Consistently weird, wonderful, full of surprises and a lot of laughs. This show is not to be missed.
Featuring:
Christian Paluck (Late Night with Conan O?Brien - NBC; The Armando Diaz Experience - Magnet Theater)
Rob Cuthill (Quick Draw ? Hulu original series; Genus - Magnet Theater)
David Carl (Gary Busey's One-Man Hamlet (As Performed by David Carl) -"Overall Award for Excellence in Solo Performance" and Solo in City: FringeNYC Encore Series; Guiding Light; All My Children; Point Break LIVE!; Awesome 80s Prom)
Jamaal Sedayao (Jamaal Sedayao: Born to Karaoke, The Misses ? The Magnet)
Joe Miles (Missing Earl - www.missingearl.com; Story Pirates)
Michael Delisle (Action Park ? The Magnet)
Geri Cole (Action Park ? The Magnet)
Matt Antonucci (Hardy, Wendigo ? Magnet Theater)
Jimmy O?Connell (The Misses ? The Magnet; Kevin and Jimmy's Guide to New York) www.janaandlaurenpresents.com
Magnet Theater
254 West 29th St.
New York
NY
10001