Baby Shoes: Best Of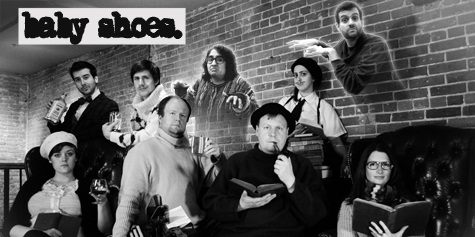 About the Show
Simple words, big feelings, and lots and lots of dumb, funny, and extreme scenarios. Just like Funny-Man Ernest Hemingway would have wanted.
"Dark and fucked up! I loved it. These guys knew what they were doing and committed to it." - Bloody Underrated
Baby Shoes, one of the six house sketch teams of the Magnet Theater in NYC, was formed by Beth Newell in September 2013. We perform every three weeks at the Magnet. Baby Shoes is Roger Ainslie, Chano Garcia, Bob Kern, Ally Kornfeld, Michael McLarnon, Megan Meadows, Andy Moskowitz and Amanda Ariel Peggy Xeller. Directed by Alex Marino.
Sketch Comedy: Baby Shoes, destroyin' it.
Magnet Theater
254 West 29th St.
New York
NY
10001